Description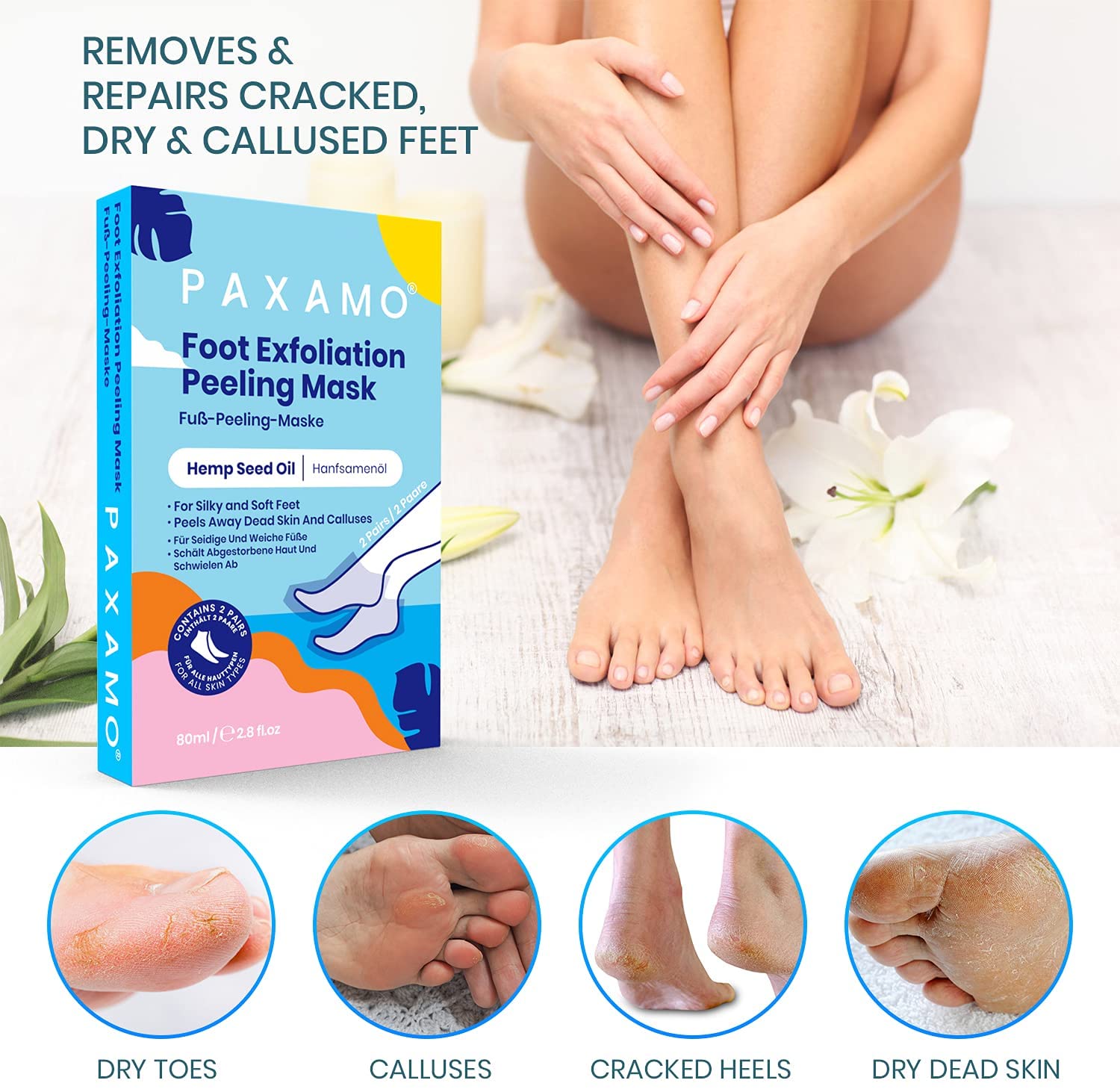 PAXAMO Foot Peel Mask - 2 Pack (Pairs) Exfoliating Foot Mask - Infused with Hemp Extract- Peeling Away Calluses and Dead Skin Cells, Make Your Feet Baby Soft & Get a Smooth Skin
ULTIMATE FOOT CARE: Our PAXAMO Foot Exfoliation Peeling Mask rich in omega 6 and omega 3 acids and rich in Vitamin A, C and E for deep moisturizing, repairing, and anti-oxidizing properties. Botanical and natural extracts all working together to effectively remove dead dry skin, calluses and repair the cracked heels. Helping them look and feel silkier, softer and sexier.
UPGRADED FORMULA: No itchiness or rashes. Paxamo foot mask is made for sensitive skin with hemp seed extracts and botanicals which are free from strong chemicals. The natural ingredients penetrate deep into the dead skin cells to break down and naturally remove the outer layers, help fight with calluses and cracked heels. It is lauded as one of the best foot peels available in the market 2022.
RESTORE YOUR BABY FEET WITHIN 2 WEEKS: Perfect Solution for dry, callused, coarse feet. This exfoliating foot peeling mask is extremely effective at peeling off rough dry skin, soothes cracked heels and unveil brand new baby foot. Just 3-step fuss-free application process gives you a complete spa-like experience. No scrubbing, no pain, just sit back, relax, and get flawless feet.
FOR MEN & WOMEN: Our foot exfoliating masks come in 2 pairs in Universal Size, designed to fit all men and women who were suffering from dry, cracked and calloused feet. Complete skin renewal in just 1-2 weeks. The natural extracts gently yet safely penetrate into the dead skin cells to break down and remove the outer layers. The mask is designed with Double-Barrier to prevent rips. Paxamo foot mask is cruelty-free and contains no Paraben.
EVERYTHING YOU EVER NEED IN A FOOT MASK: EASY TO USE - Simply put on the socks for the recommended time period and after removing it, the treatment will start to work. There is no need for you to peel or scrub the skin yourself. The old skin will automatically peel away on its own after a few days until only new remains. Our recent customer satisfaction survey shows 94% of the users said all the hard skin and calluses peeled off within 7 days.
Do you have Calluses, Dry cracked heels, or Hard skin?

PAXAMO Foot Exfoliation Peeling Mask is a miracle worker for rough and callus feet!
Our peeling foot mask acts as exfoliating socks, working by peeling away bad skin whilst repairing your feet and your confidence. In under 7 days you can get the soft baby feet foot peel of your dreams with PAXAMPO!
How does PAXAMO works?

Our all natural skin-friendly and moisturizing botanical plant-based ingredients safely penetrate into the dead skin cells to break down and remove the outer layers, thus systematically removing dry and dead skin as well as repairs all cracked heels and calluses.
Once the process is completed over approx a 3-7 days period. You will get new baby soft feet, radiant, smooth and gentle.
Become confident when attending a dancing party or swimming in the pool. If you're getting a pedicure, the smooth and baby soft feet will make your feet look even more beautiful and enchanting like a model!
- We affirm the top quality natural ingredients & botanical extracts used to make this product as a genuine work of art!
- We pride itself in offering this exclusive product for all your foot care needs!
Cannabidiol is known to boost the immune system thanks to its anti-inflammatory properties, so it can definitely help reduce inflammation in your system. One of the most exciting ways to consume cannabidiol is through a broad-spectrum CBD oil. You can add this to your morning coffee or simply down it own its own.

Hemp is a variety of the cannabis sativa plant. The main difference between hemp and other strains of cannabis such as marijuana is that there is a very low percentage of THC compound in hemp, lower than 0.3% and therefore, hemp is not normally used as a recreational drug. Rather it is grown for its fiber seed and most often used for industrial purposes, such as in the manufacturing of paper or clothing. It can also be used as a food product.
Cannabis describes cannabis products in general.
Marijuana specifically refers to cannabis products that are made from the dried flowers, leaves, stems and seeds of the cannabis plant.