Description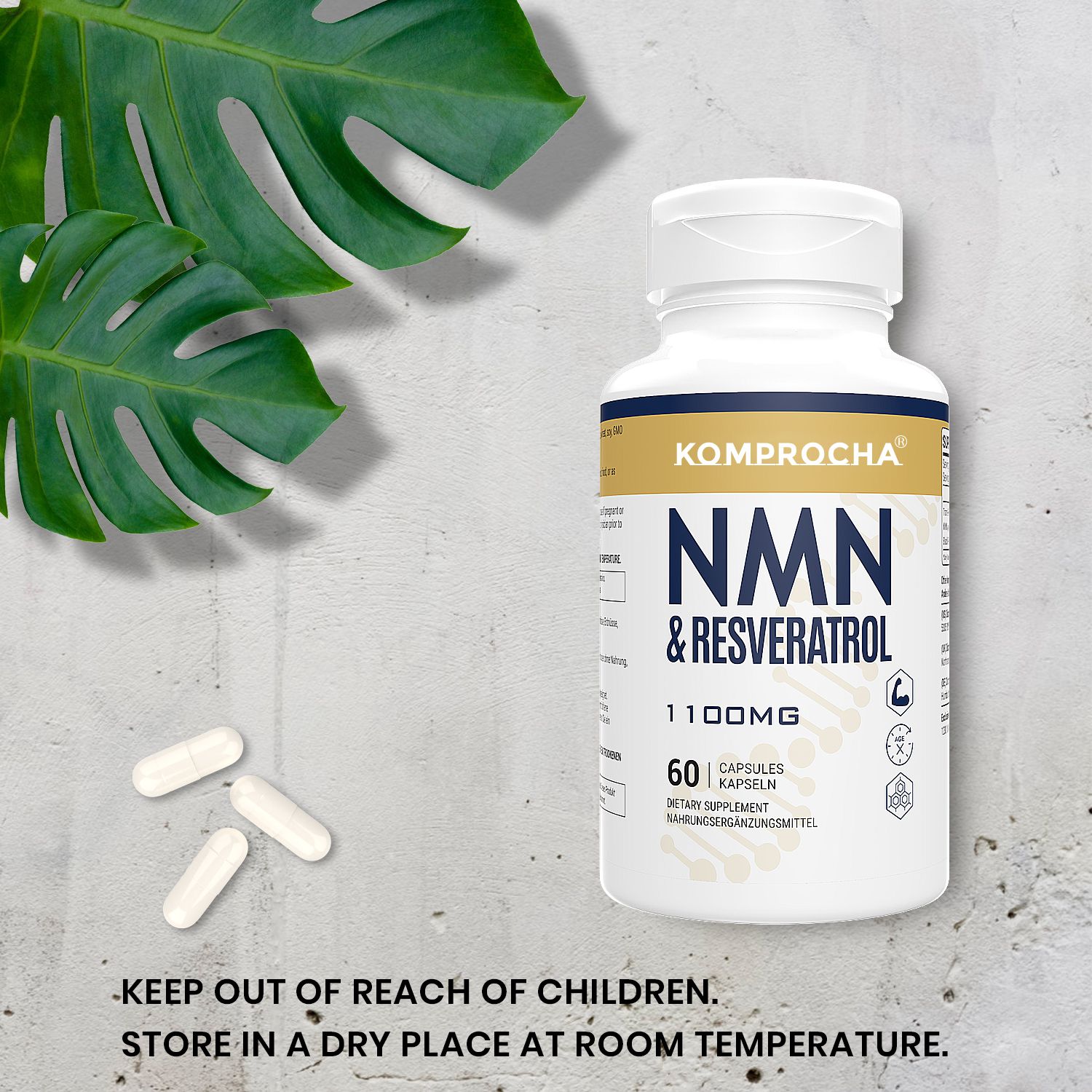 KOMPROCHA NMN + Trans-Resveratrol 1100MG, Enhanced with Black Pepper for Max Absorption, Powerful Antioxidant & Anti-Aging Supplements for Heart, Immune & Skin Health, 60 Capsules Nicotinamide Mononucleotide Supplement
COMPLEX FORMULA: Pure NMN with 99%Trans Resveatrol Capsules ( NMN 500mg + Resveratrol 600mg + Black Pepper Extract 50mg Per Serving). Vegan Friendly. Our Resveratrol Complex Is Paired with Black Pepper Extract To Increase The Absorption of Nutrients within Your Body.
NATURAL ANTIOXIDANT SUPPLEMENTS: Our Resveratrol Is A Powerful Anti-oxidant That Helps You Maintain Your Youthful Vigor & Appearance. We Only Use Organic Trans-resveratrol with Pure NMN To Improve Anti-oxidant Content. Easy To Swallow with No Fillers.
AMAZING HEALTH BENEFITS: Resveratrol Has Been Found To Be Effective In Strengthening The Cardiovascular System, Promoting Overall Heart Health, Aiding In Weight Loss, And Supporting A Healthy Inflammatory Response. Komprocha Resveratrol Infused with NMN Is A Great Way To Strengthen Your Body's Defence Barrier And Maintain A Healthy Rhythm of Life.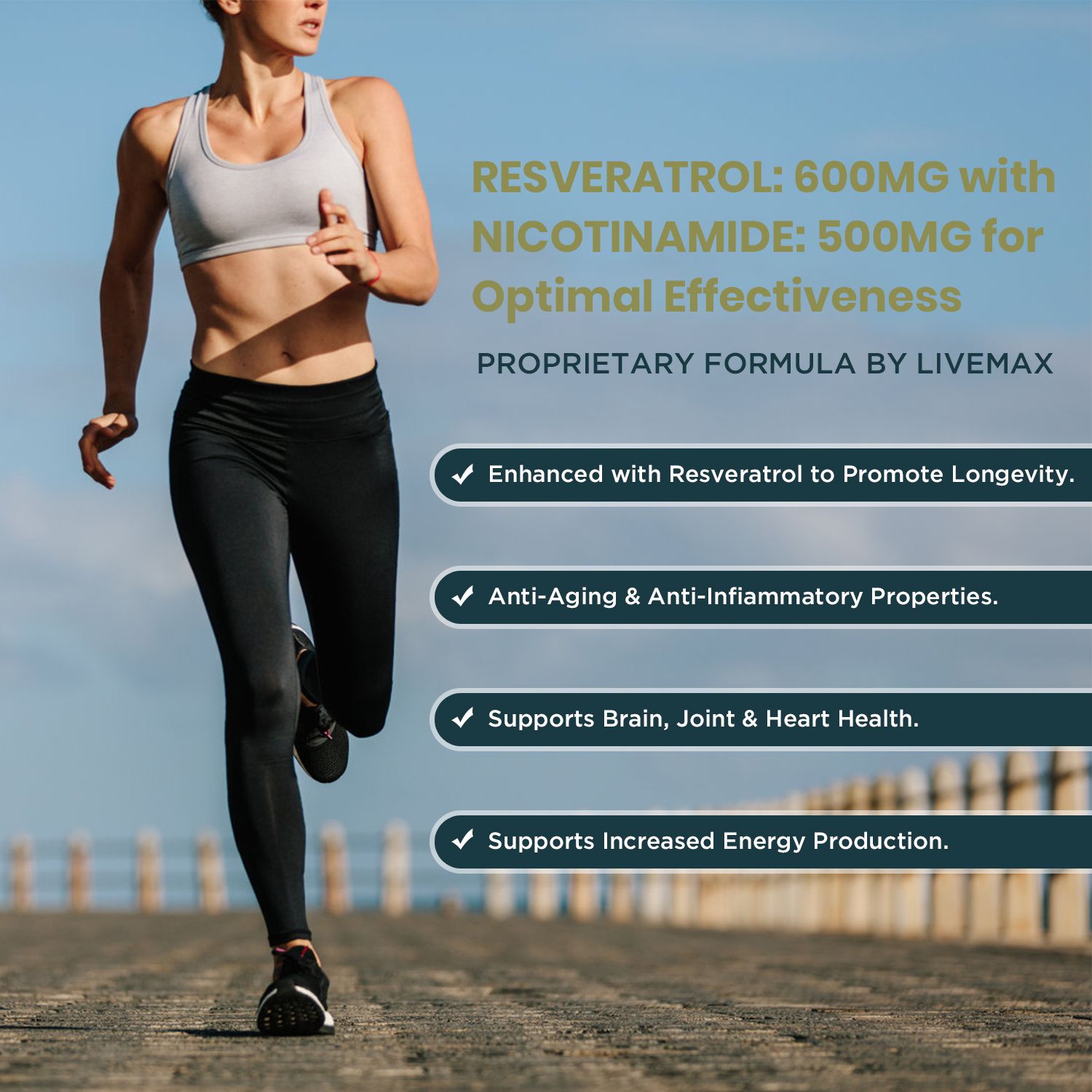 SAFE, PRECIOUS INGREDIENTS: 1100mg of The Purest & Most Potent Resveratrol Complex.Komprocha Resveratrol NMN Supplement is of Leading Potency And Quality. Our Product Is 100% Vegan and Does Not Contain Any Caffeine, Gluten, Gmo, or Any Other Harmful Additives or Ingredients!
AN EASY DAILY ROUTINE: It is our passion to tap into the best scientific minds and ingredient resources from around the world to bring the most effective natural wellness nutrients to you, and in their most pure and potent forms. Take one capsules per day with food or a glass of water as you like. Making NAD supplements part of your daily routine can help you maintain a better lifestyle and all the mighty benefits of resveratrol has to offer.
Cannabidiol is known to boost the immune system thanks to its anti-inflammatory properties, so it can definitely help reduce inflammation in your system. One of the most exciting ways to consume cannabidiol is through a broad-spectrum CBD oil. You can add this to your morning coffee or simply down it own its own.

Hemp is a variety of the cannabis sativa plant. The main difference between hemp and other strains of cannabis such as marijuana is that there is a very low percentage of THC compound in hemp, lower than 0.3% and therefore, hemp is not normally used as a recreational drug. Rather it is grown for its fiber seed and most often used for industrial purposes, such as in the manufacturing of paper or clothing. It can also be used as a food product.
Cannabis describes cannabis products in general.
Marijuana specifically refers to cannabis products that are made from the dried flowers, leaves, stems and seeds of the cannabis plant.