Description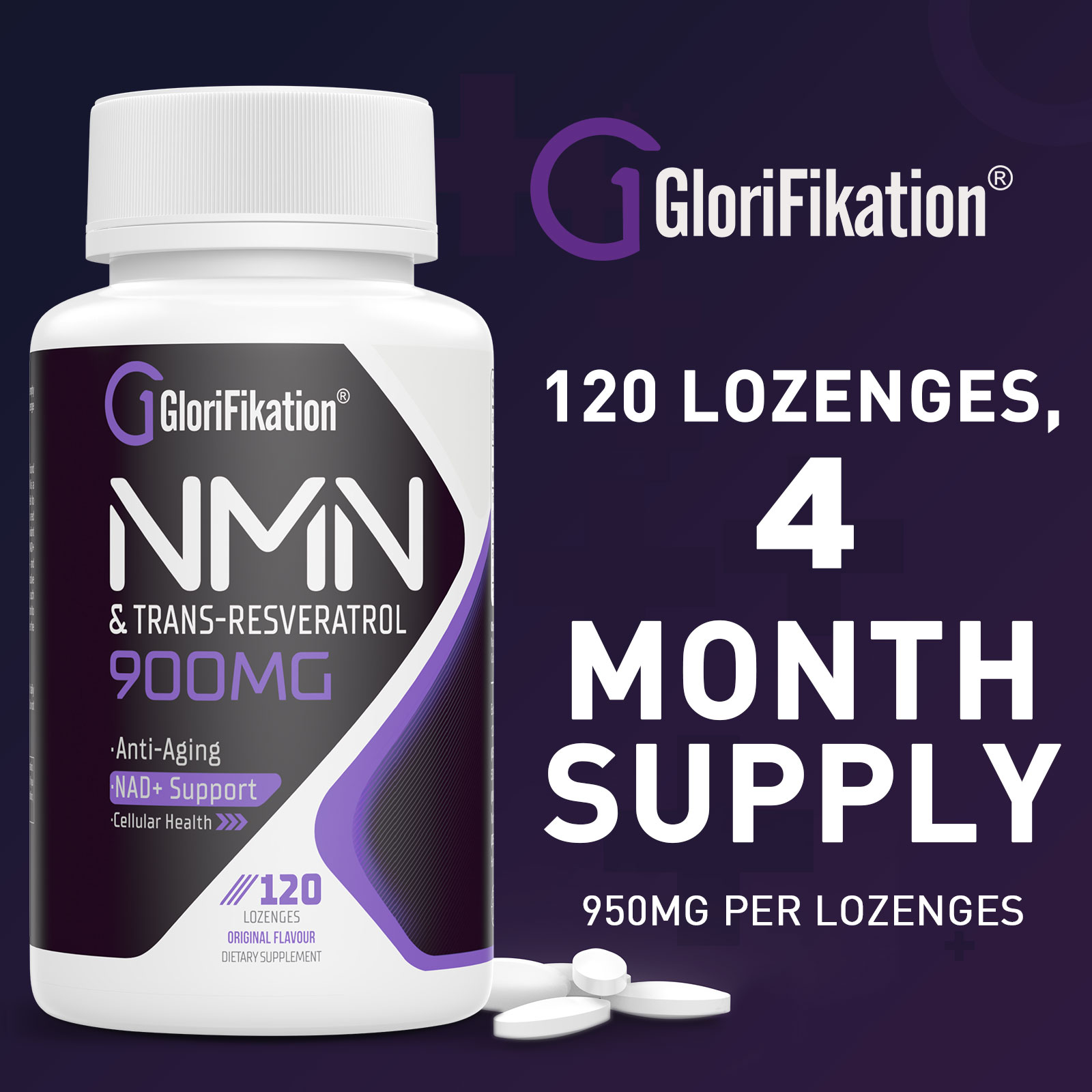 Glorifikation Sublingual NMN Lozenges + 99% Pure Trans-Resveratrol 900mg -Naturally Boost NAD+ Levels for Cellular Repair, Powerful Anti-Aging & Energy Metabolism Support, 120 Lozenges Nicotinamide Mononucleotide Supplement
Latest NMN Sublingual with 120 Tablets Lozenges: GloriFikation's NMN Lozenges provide 500 mg of pure NMN (β-Nicotinamide Mononucleotide) + 99% Pure Trans-Resveratrol 400mg per lozenge. 1 pack contains 120 TABLETS SUBLINGUAL for 4 MONTH supply, Lozenges allow NMN and trans-resveratrol to be absorbed directly into the blood vessels in the mouth and under the tongue, and support a healthy immune system and antioxidant health.

Fast Acting Lozenges: GloriFikation's NMN is a full line of fast melting dietary supplements that are specially formulated to melt in the mouth quickly without the need for water. NMN Lozenges will melt rapidly in the mouth and throat for a soothing effect, and is readily available absorbed to cells throughout the body. They are perfect for those who dislike swallowing big capsules or simply for those who want the benefits of quality, great tasting supplements.

3-In-1 Immune Support: One NMN Lozenges contains NMN 500mg + 99% Pure trans-resveratrol 400mg + Black pepper extract 50mg; As we age, NAD+ levels fall. NMN helps boost NAD+ levels to slow the aging process, repair DNA and generate cell energy. And trans-resveratrol is a proven antioxidant supplement that promotes overall health and maintain your youthful vigor. Other Black pepper extract can greatly increase bioavailability and absorption. Stack both products together for maximum results!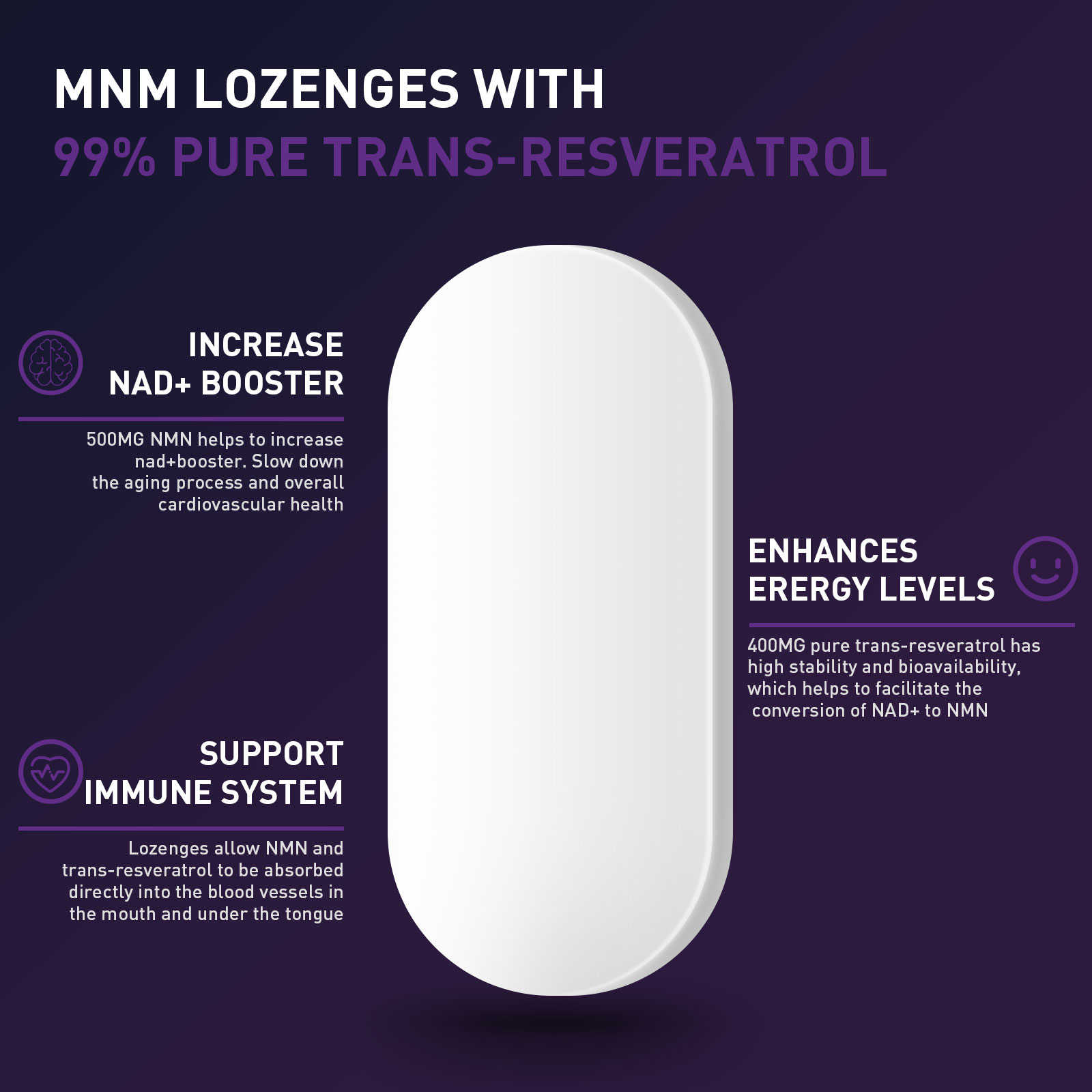 Full Scale Health Benefits: Extra strength, extra potent, exceptionally beneficial. GloriFikation NMN Lozenges are made to keep your energy levels up as you live your best life for years to come. Science continues to show the amazing anti-aging benefits of taking NMN products on a regular basis to help keep cells young and optimized.Each time you take GloriFikation NMN Lozenges, it will help replenish your body's NAD.
Get Healthier Today: We're all about transparency and honesty, thus we list every ingredient we use on the bottle label. Our advanced NMN Lozenges formula is non-gmo, soy-free, gluten-free, dairy-free and vegan friendly.NMN + Trans Resveratrol's anti-aging properties will help you look and feel radiant, inside and out! and Lozenges greatly increase the bioavailability of NMN and help strengthen and support the immune system.

Cannabidiol is known to boost the immune system thanks to its anti-inflammatory properties, so it can definitely help reduce inflammation in your system. One of the most exciting ways to consume cannabidiol is through a broad-spectrum CBD oil. You can add this to your morning coffee or simply down it own its own.

Hemp is a variety of the cannabis sativa plant. The main difference between hemp and other strains of cannabis such as marijuana is that there is a very low percentage of THC compound in hemp, lower than 0.3% and therefore, hemp is not normally used as a recreational drug. Rather it is grown for its fiber seed and most often used for industrial purposes, such as in the manufacturing of paper or clothing. It can also be used as a food product.
Cannabis describes cannabis products in general.
Marijuana specifically refers to cannabis products that are made from the dried flowers, leaves, stems and seeds of the cannabis plant.