Description
BENEHEMP Oil for Dogs & Cats - 30000mg -100% A Organic Pet Hemp Oil - Supports Hip & Joint Health - Anxiety Relief for Dogs & Cats - Natural Relief for Pain - Omega 3, 6 & 9 - Grown & Formulated in UK
Reduces pain & inflammation: Hemp extract has powerful anti-inflammatory properties, which have shown to help relieve joint pain and achieve more mobility, agility and energy.
Veterinarian recommended: Our Hemp oil for pets provides a natural calming effect which may help relieve stress, separation anxiety, travel issues, constant barking, natural aggressive behavior.
Formulated in UK: our pet Hemp oil drops are made by certified Hemp Manufacturer in UK safeguarded by the highest manufacturing standards in the world. It's made for small, Medium, Large dogs and cats.
Natural health support: utilizing a proprietary extraction process, dog Hemp oil treats offers the purest possible Hemp oil with a full Plant profile.
100% CUSTOMER SATISFACTION: We offer a premium, therapeutic-grade products and confidently stand behind them. If you aren't satisfied with our dog anxiety Relief, Please contact us for a full refund.
ARTHRITIS MAY SOUND LIKE A CONDITION OF AGE IN HUMANS, BUT IN PETS, IT CAN SET IN AS EARLY AS A YEAR OLD.
20% of dogs over a year old are suffering from some degree of arthritis. And while cats, who are naturally more agile, may show higher tolerance for arthritis symptoms, over half of them develop arthritis by the age of 6. These pets have to live with pain, swelling, and muscle atrophy. Playtime and walks become an exercise in pain management.
Improve your pet's quality of life and restore their livelihood with BENEHEMP's 30000mg Organic Hemp Oil for Dogs and Cats.
ORGANIC INGRIDIENTS
You can rest assured that our supplements are FREE from fillers, additives, preservatives and harmful chemicals that may affect your pet's health or cause allergies. Go ahead and treat your pet with peace of mind. You're one drop away from improving your dog's or cat's quality of life!
EASY TO ADMINISTER
Hemp oil blends with most treats, meats and pet food, making it easy to feed to your pet. No more struggles and getting nipped just to administer a few ounces! However, please do note that hemp oil should not be mixed with chicken and chicken products, because both are high in polyunsaturated fats, and can therefore disrupt your pet's diet. You should also not cook food mixed with hemp oil, as it can become unstable at high temperatures.
HIGH IN NUTRITION
Hemp oil is one of the richest sources of polyunsaturated fats such as omega-6 and omega-3. It also contains a fair amount of Vitamin E. But only about 30% of each seed is made of oil. Our oils are cold pressed for extraction as opposed to heated or using solvents to ensure that we retain and preserve the maximum amount of nutrients in the oil.
NATURALLY SUPPORTS MOBILITY AND AGILITY
Hemp oil contains Gamma Linolenic Acid (GLA), a fatty acid that helps produce prostaglandin, a naturally occurring substance that controls inflammation. As osteoarthritis is an inflammatory disease that destroys bone and cartilage structures, prostaglandin can be an effective mediator. GLA in hemp seeds has been shown to reduce arthritis symptoms by up to 25 percent, according to the Journal of Arthritis and Rheumatism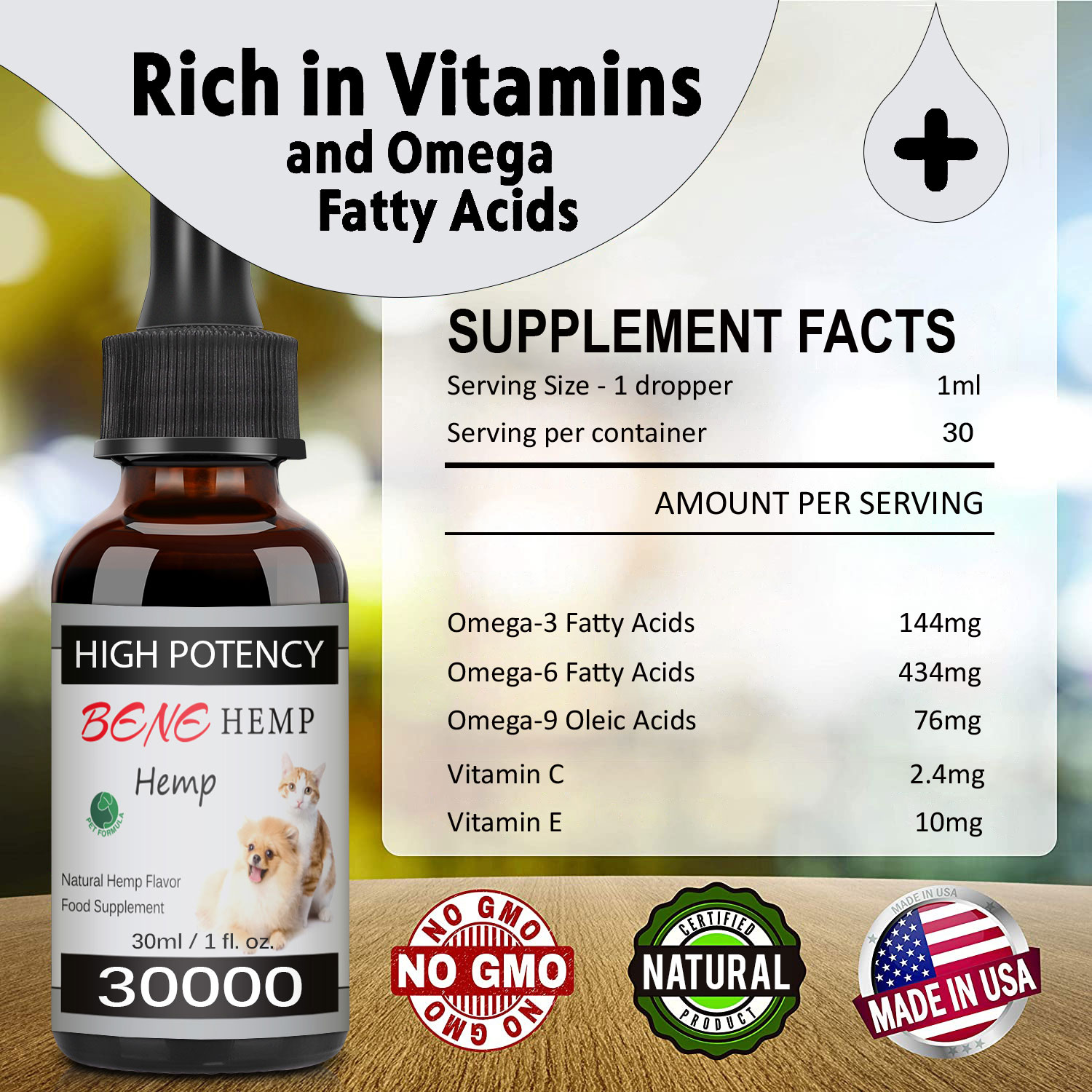 SOOTHES ANXIETY AND STRESS
Around 17% of dogs suffer from separation anxiety. The number is even higher for cats at 67%. Hemp oil can aid restlessness and anxiety relief in pets by interacting with their body's natural mood-regulating systems. This is potentially useful for pets who are in high stress situations, such as newly adopted and rehomed cats and dogs, or old pets who are being introduced to a newborn baby or new pet.
AIDS DIGESTIVE PROCESS
Hemp oil helps improve appetite and metabolism. It does so by stimulating your pet's endocannabinoid system (ECS), which affects digestion. It helps prevent digestive problems such as diarrhea, vomiting, and indigestion. It has also been found to mediate dog and cat central nervous system disorders which are caused by a faulty ECS. Around 60-90% of owners use hemp oil for seizure treatment, according to the American Holistic Veterinary Medical Association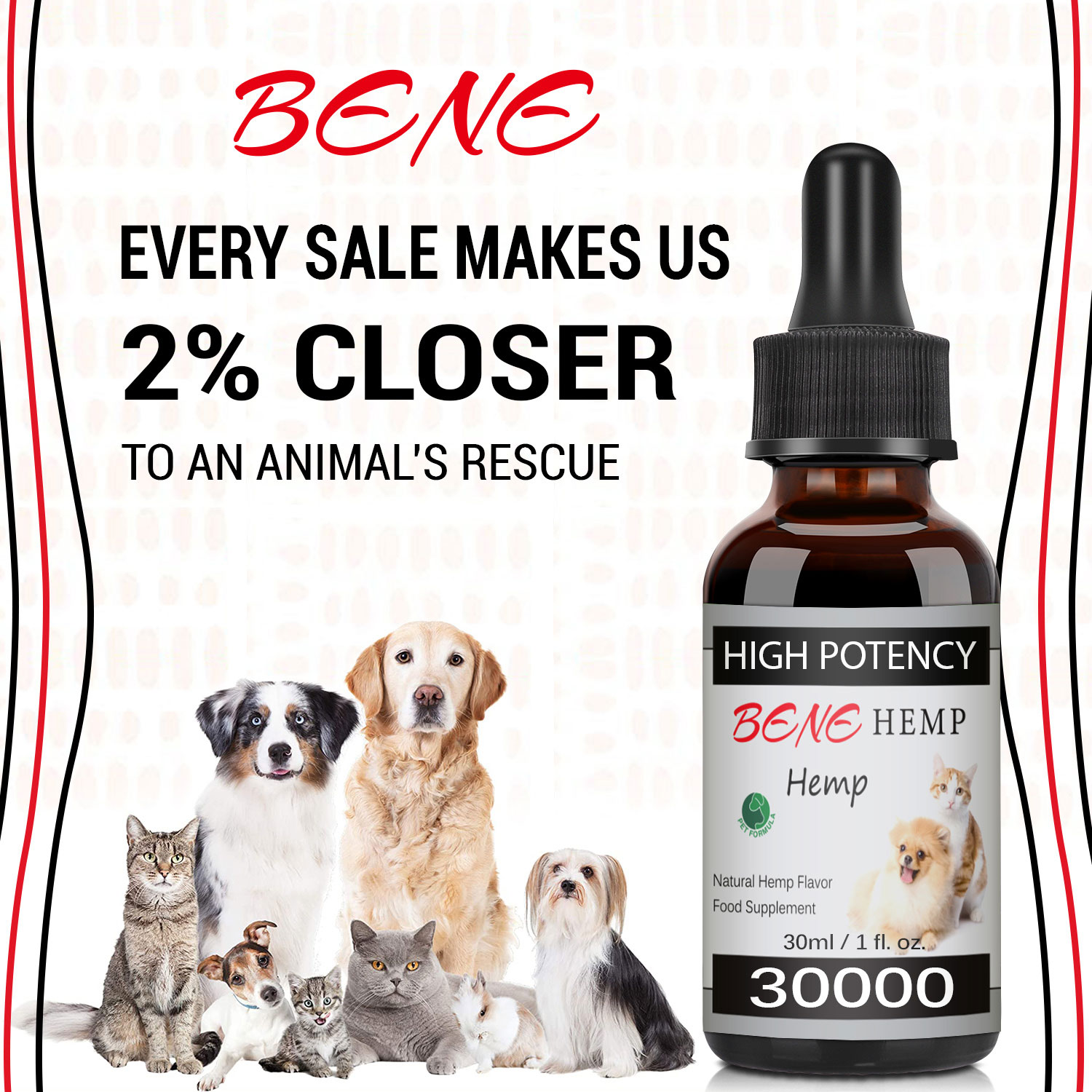 HELPS RELIEVE ITCHY SKIN
Proudly Formulated in UK. Hemp oil can therefore also soothe discomfort from allergies, atopic dermatitis, cracked paws, and dandruff, among other skin conditions that can plague your pet's coat.
BENEHEMP
We know how much your four-legged friends mean to you. We are dedicated in improving your pet's quality of life and overall wellness by providing premium, therapeutic-grade products loaded with nutritional benefits.
Instead of having a concentration of 250mg like the other hemp oil supplements available on the market, ours contain a jaw dropping 30000mg.
Cannabidiol is known to boost the immune system thanks to its anti-inflammatory properties, so it can definitely help reduce inflammation in your system. One of the most exciting ways to consume cannabidiol is through a broad-spectrum CBD oil. You can add this to your morning coffee or simply down it own its own.

Hemp is a variety of the cannabis sativa plant. The main difference between hemp and other strains of cannabis such as marijuana is that there is a very low percentage of THC compound in hemp, lower than 0.3% and therefore, hemp is not normally used as a recreational drug. Rather it is grown for its fiber seed and most often used for industrial purposes, such as in the manufacturing of paper or clothing. It can also be used as a food product.
Cannabis describes cannabis products in general.
Marijuana specifically refers to cannabis products that are made from the dried flowers, leaves, stems and seeds of the cannabis plant.