22 Dec

Malta President's Officially Signature Cannabis Legalization Bill, Becomes First EU Country to End Cannabis Prohibition
A few days after the Maltese Parliament approved the cannabis legalisation bill, President George Vella signed it into law last Saturday, making Malta the first European country to implement the reform.
Under the legislation, sponsored by MP Owen Bonnici: adults aged 18 and over will be allowed to possess seven grams of cannabis and grow up to four cannabis plants for personal use, with each household allowed to store up to 50 grams of home-grown cannabis. Although not for commercial purposes per se, non-profit cooperatives will be able to grow cannabis and distribute it to their members.
Adults in possession of more than 7 grams but less than 28 grams of cannabis will be fined between €50 and €100, but will not face the risk of imprisonment or a criminal record. Minors found in possession of cannabis will be referred to the Justice Commission for a "care plan" rather than face arrest.
By law, authorised cannabis clubs can have up to 500 members and can only distribute 7 grams of cannabis per member per day, with a maximum of 50 grams per month. In addition, cannabis clubs can distribute up to 20 cannabis seeds per member per month.
In a press release, the sponsor of this bill, MP Owen Bonnici, said, "The coming into force of this strong legislative framework highlights the willingness of this government to make bold decisions to serve the best interests of society as a whole by implementing smart and unprecedented reforms to achieve change and social justice."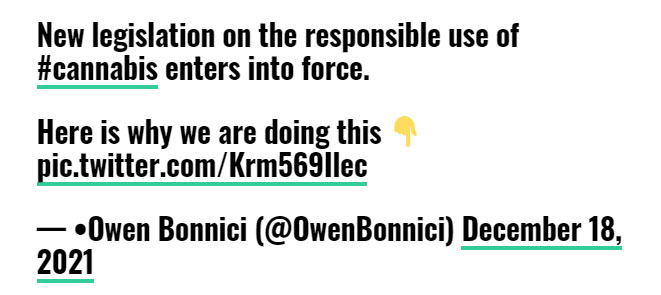 So far, the president has no right to ignore a law passed democratically by parliament, whether he agrees with it or not, unless he has such a serious moral objection that he would rather pack up and go home than sign it", the president added: "The head of state is not at liberty to create a constitutional crisis and provoke instability stability. There is no provision in our constitution that gives the president the final say on laws, otherwise we would be creating a dictator who would be able to decide on the content of laws as he pleases."
Tuesday's vote to approve the bill was 36-27.
The bill states that its purpose is "to achieve a balance between limited and responsible personal use of cannabis and other societal requirements for personal freedom."
According to a government circular on the enactment of the new law, it will be the Bonnici MP, who is the country's Minister for Equality, Research and Innovation, who will be responsible for its implementation.
Malta is the smallest member of the European Union and it is now ahead of several other countries in the region that may also soon pass legalisation of cannabis.
Germany's newly installed coalition government leaders announced late last month that they had reached a formal agreement to push for the legalisation of cannabis and to introduce a broader drug policy to reduce harm measures after they are in power; in neighbouring Luxembourg, the justice and homeland security ministers put forward a legalisation proposal in October which still needs to be voted on by parliament but is highly likely to pass. The country is currently focusing on legalising cannabis in the home environment, with parliament expected to vote on the proposal in early 2022, and the ruling party is understood to be friendly to reform; meanwhile, Italian voters will likely have the opportunity next spring to hold a referendum on the personal possession and home cultivation of cannabis and the legalisation of naked cap mushrooms.
In the United States, there are several competing legalisation bills being discussed in Congress, with one reform bill having been passed by the House Judiciary Committee in September. Another was finalised by Senate Majority Leader Chuck Schumer (Democrat, New York) and colleagues. Republican lawmakers also introduced a legalisation bill last month.
In addition, a draft bill aimed at legalising and regulating the sale of cannabis in Mexico is being circulated among senators, and some high-level legislators have indicated that they intend to vote on it soon.
And Canada and Uruguay have legalised recreational cannabis.
A global wave of cannabis legalisation is emerging.