Description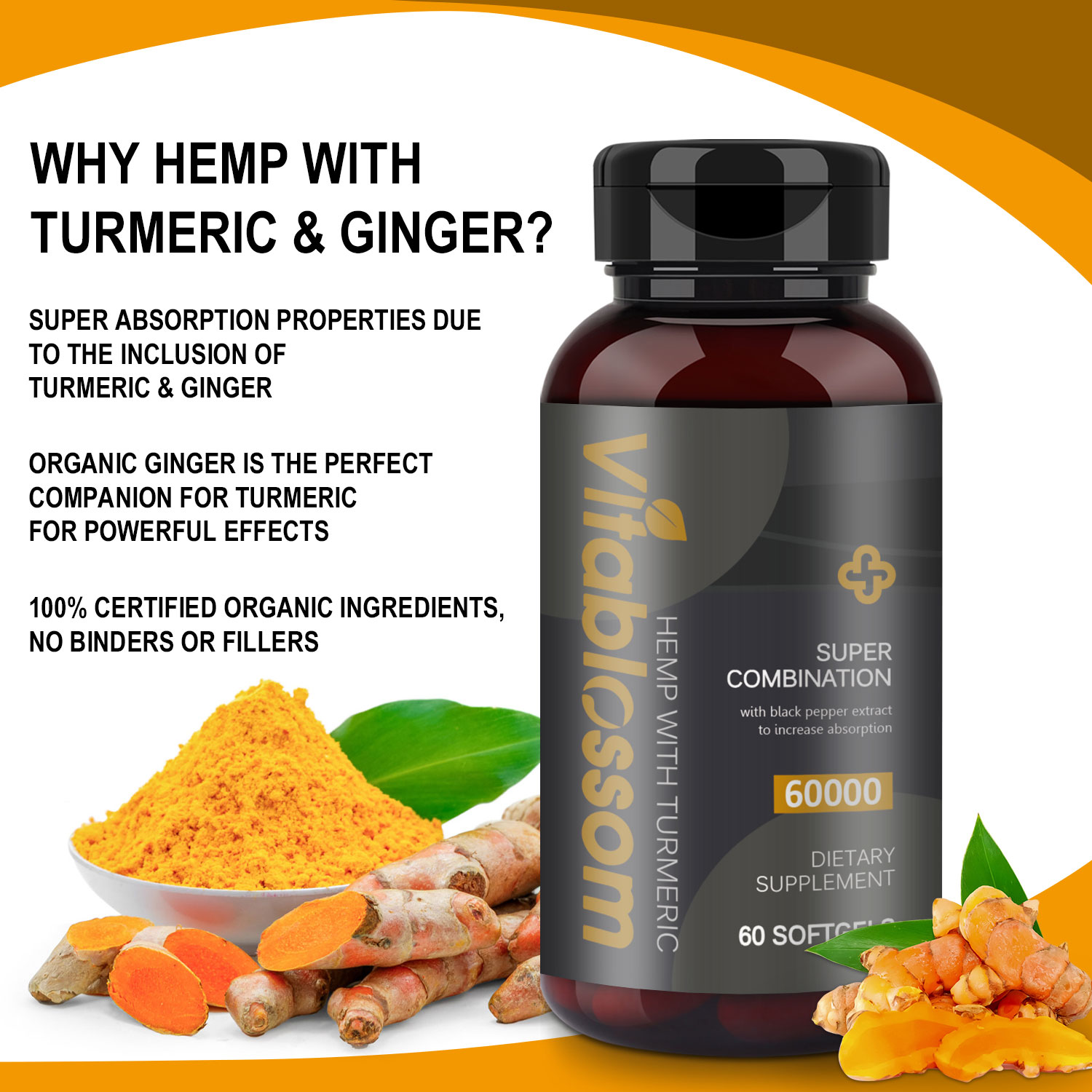 About Vitablossom Hemp Turmeric Softgels
Our Cannabidiol (CBD) Softgels are made with a proprietary infusion of broad spectrum Cannabidiol (CBD) encapsulated with Cannabis Sativa L. Seed. And added natural turmeric complex. This product contains less than 0.1% THC.
The Power of Curcumin
Curcumin is an antioxidant that has strong, natural anti-inflammatory benefits. And it is the major bio-active component found in the roots of Turmeric (Curcuma longa), a plant belonging to the ginger family. Turmeric has been used as a coloring and flavoring agent in South Asian cuisines for centuries, and it has also been recommended by traditional Ayurvedic herbalists for thousands of years. Curcumin has been extensively researched by modern scientists for its various biological activities. Natural color variation may occur in this product.

100% Pure Cannabis Sativa L. Hemp
1000mg of CBD per Softgel
83% High Strength 60000mg per bottle

Broad Spectrum of cannabinoids and terpenes
Organic Turmeric(root) Extract.
Lab tested for purity and potency
Made in UK
Available in 60 Count Bottles
DIRECTIONS & CAUTIONS:
Take one Softgel daily with food. Store in a cool and dry place. If you are pregnant or breastfeeding, consult a health care practitioner before using. Keep out of reach of children. Do not use if seal is broken or missing.
Ingredients:
Broad Spectrum Hemp Extract Blend, Turmeric Complex, Ginger (root) Extract standardized, Organic Black Pepper (fruit) Extract, Non-GMO softgel, Tree nuts (coconut)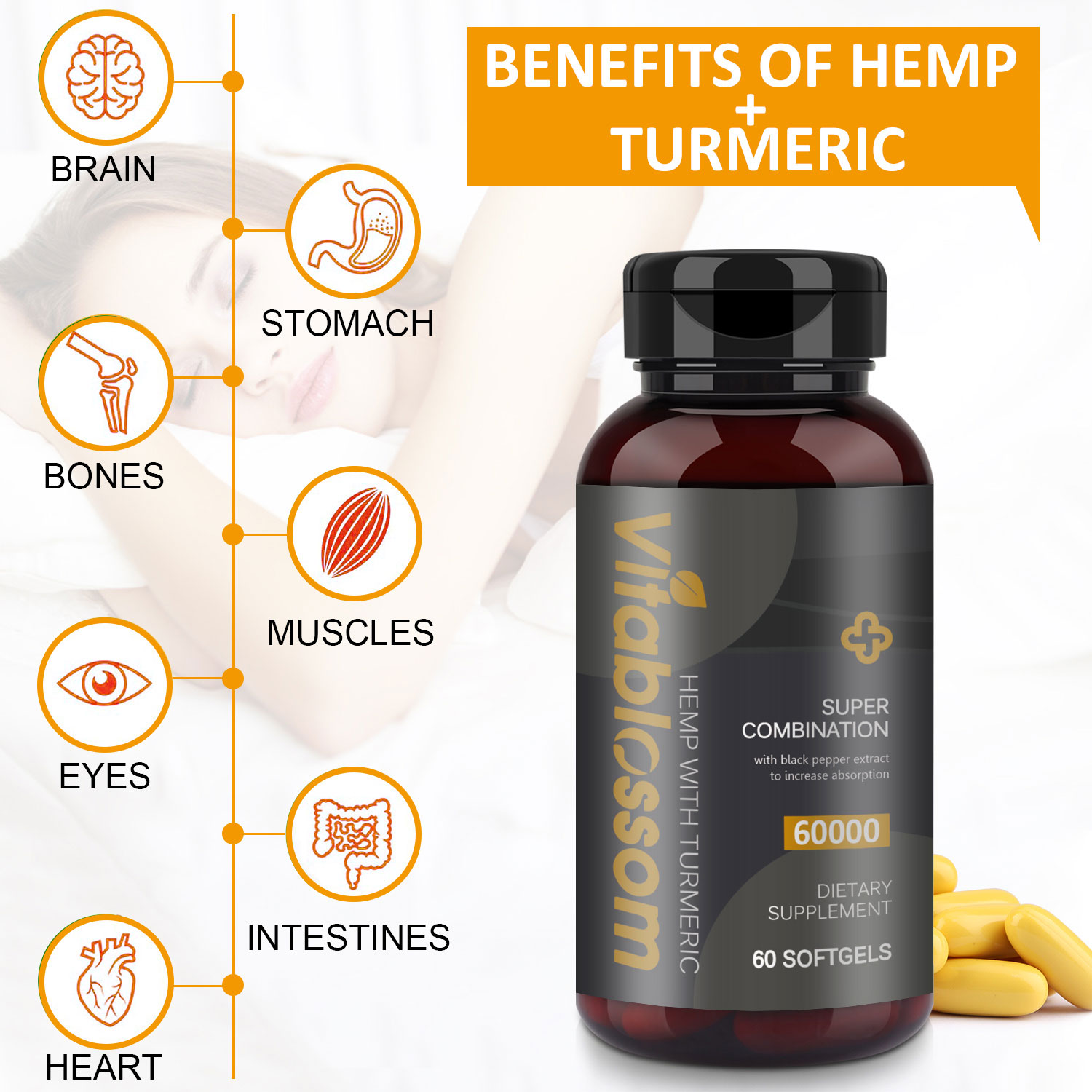 Why Should You Choose Vitablossom Hemp Turmeric Softgels?
CBD comes from organically grown hemp and we use CO2 extraction to ensure that only high-quality ingredients come from the plants - with no chemical residue. Moreover, our formulation process ensures you get a consistent amount of CBD, every single time. Our CBD Softgels are vegan, certified organic, and non-GMO.
We find that CBD Softgels are very popular amongst customers who want to try cannabidiol, but don't like the taste of a tincture or trying to measure amounts with the dropper cap. The effects of CBD will vary depending on the individual, so you won't know how it can help you until you try it.
Vitablossom CBD Turmeric Softgels vs CBD Drops
In terms of the quality of CBD in Vitablossom CBD oil and Softgels, there is no difference. Each one contains CBD derived from organic hemp that has been grown in the United States without the use of chemicals, insecticides, or herbicides. The main difference is in the form of consumption. You can hold CBD oil beneath the tongue for up to 60-90 seconds and swallow, or add it to your food or a drink. CBD Softgels are more convenient for some users because you can swallow them with water. Both CBD oil and CBD Softgels are taken orally.
Cannabidiol is known to boost the immune system thanks to its anti-inflammatory properties, so it can definitely help reduce inflammation in your system. One of the most exciting ways to consume cannabidiol is through a broad-spectrum CBD oil. You can add this to your morning coffee or simply down it own its own.

Hemp is a variety of the cannabis sativa plant. The main difference between hemp and other strains of cannabis such as marijuana is that there is a very low percentage of THC compound in hemp, lower than 0.3% and therefore, hemp is not normally used as a recreational drug. Rather it is grown for its fiber seed and most often used for industrial purposes, such as in the manufacturing of paper or clothing. It can also be used as a food product.
Cannabis describes cannabis products in general.
Marijuana specifically refers to cannabis products that are made from the dried flowers, leaves, stems and seeds of the cannabis plant.