Description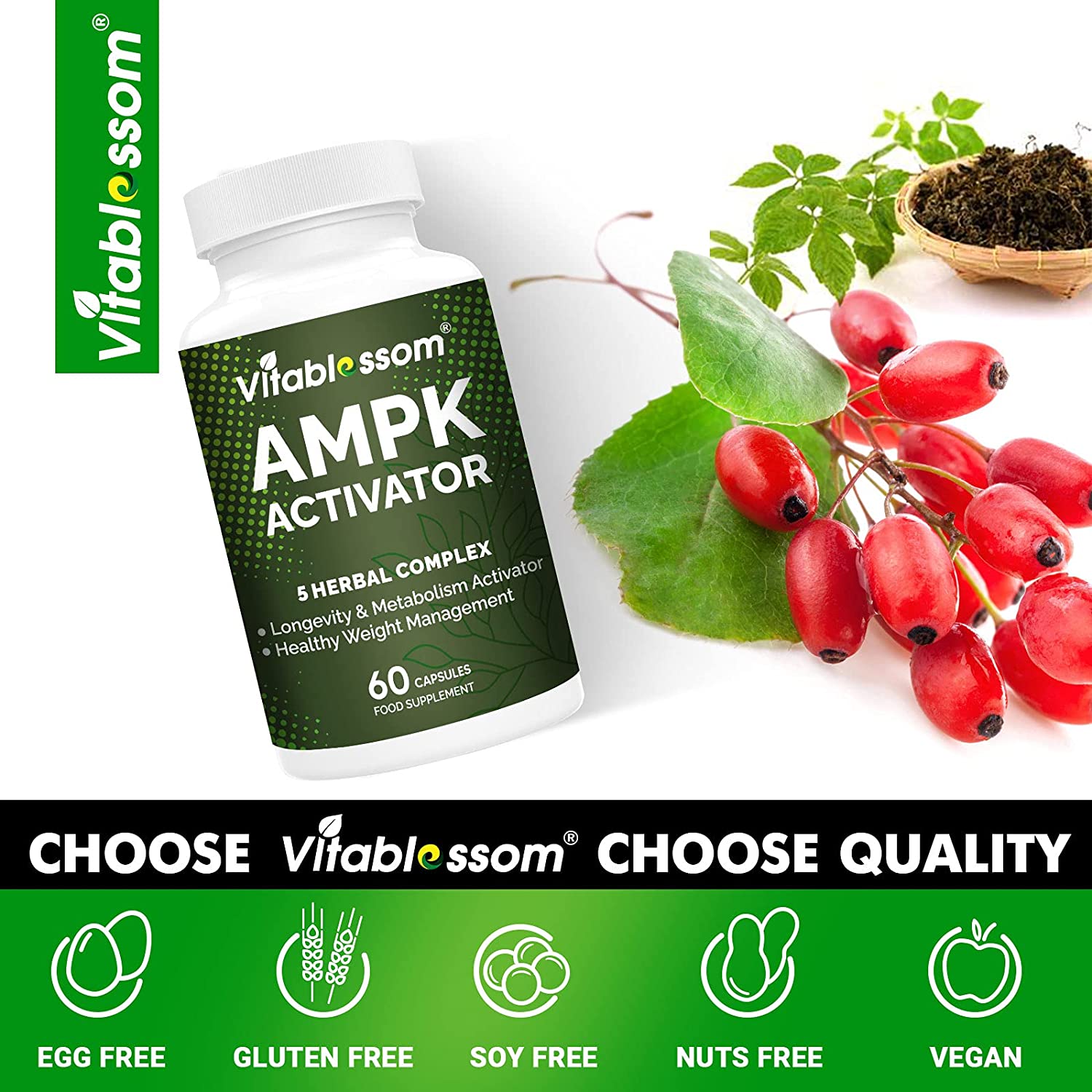 Vitablossom AMPK Activator Supplement, 5 in 1 Herbal Complex Advanced Metabolic Activator, for Immune Support, Energy Support and Weight Management, 60 Capsules, Premium Grade Jiaogulan Gynostemma, Vegan, Non-GMO
Ingredients: Gynostemma Pentaphyllum Leaf Extract 600mg, Berberis Aristata Root Extract 150mg, Quercetin (as Quercetin Dihydrate) 100mg, Tans- Resveratrol 100mg, Ceylon Cinnamon (Cinnamomum verum) (bark) 50mg, Other Ingredients: (Veggie Capsule) Cellulose.
Berberine is a natural alkaloid found in a large variety of traditional plants and herbs. Our Berberine is extracted from the roots of Berberis aristata (Indian Barberry or Tree Turmeric). Here are a few ways our berberine formula can help keep you healthy & feeling good.
Promotes Mitochondrial Health & Function
Supports Anti-Aging & Longevity
Powerful AMPK Activator & Antioxidant
Supports Heart & Cardiovascular Health
Supports Cholesterol Health
Supports Healthy Blood Glucose Levels
Promotes Digestive Health & Well-Being
Powerful Anti-Inflammatory Properties
Supports Normal Blood Sugar Levels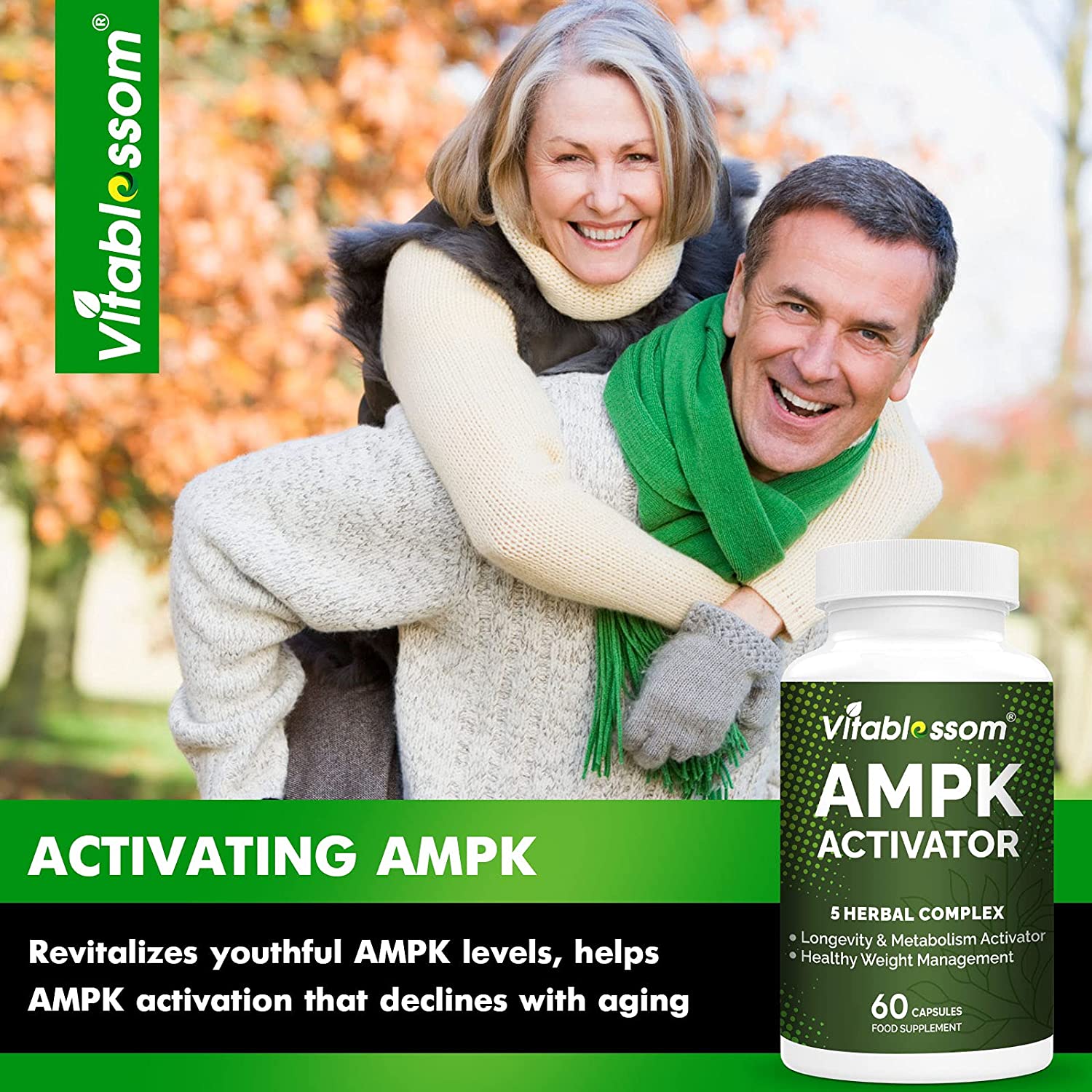 THE POWER OF AMPK:
AMPK (Adenosine 5'-monophosphate (AMP)-activated protein kinase) is an enzyme found in the body, it plays a key role in energy balance. when it was activated in certain tissues, has many beneficial effects on our bodies. Activating AMPK may also help multiple longevity pathways and promote healthy aging. By reactivating cellular AMPK, we move tantalizingly closer to gaining meaningful control over deadly aging processes.
HIGH QUALITY:
Vitablossom, an AMPK activator supplement, contains a powerful and proprietary complex. Since AMPK enzyme declines with aging and suboptimal lifestyle, a healthy dose of Vitablossom helps stimulate this enzyme. Our ampk capsules are easy to swallow and every single serving provides you with an optimum dosage to keep supplementation simple.
TRUE INGREDIENTS FROM ITS NATURAL SOURCE: Vitablossom's AMPK capsules holding the highest standards of production and safety, free of preservatives such as gluten, soy, eggs, dairy, nuts or animal products. Our AMPK capsules are non-GMO and vegan-friendly to reflect our values in setting the premium standard expected by our customers. Each bottle contains 60 Capsules.
CHANGE STARTS IN YOU: We have specially formulated 5 herbal complex in an easy to swallow pill with the most effective premium ingredients available to make sure you will get the most benefits! A healthy and clean lifestyle combined with this is a surefire way to a healthier you! Our mission is to make sure you will always get the highest-quality, pure, and safe products that help our customers to live happier and healthier lives.
WORLD-CLASS CUSTOMER SERVICE & MANUFACTURE GUARANTEE: At Vitablossom, we believe that providing a premium and safe product is only part of the formula. Our customers are the heartbeat of our company and we will do whatever it takes to ensure your complete satisfaction. If you have any concerns or are not completely satisfied with your order, we will refund you 100% no questions asked.
Cannabidiol is known to boost the immune system thanks to its anti-inflammatory properties, so it can definitely help reduce inflammation in your system. One of the most exciting ways to consume cannabidiol is through a broad-spectrum CBD oil. You can add this to your morning coffee or simply down it own its own.

Hemp is a variety of the cannabis sativa plant. The main difference between hemp and other strains of cannabis such as marijuana is that there is a very low percentage of THC compound in hemp, lower than 0.3% and therefore, hemp is not normally used as a recreational drug. Rather it is grown for its fiber seed and most often used for industrial purposes, such as in the manufacturing of paper or clothing. It can also be used as a food product.
Cannabis describes cannabis products in general.
Marijuana specifically refers to cannabis products that are made from the dried flowers, leaves, stems and seeds of the cannabis plant.