Description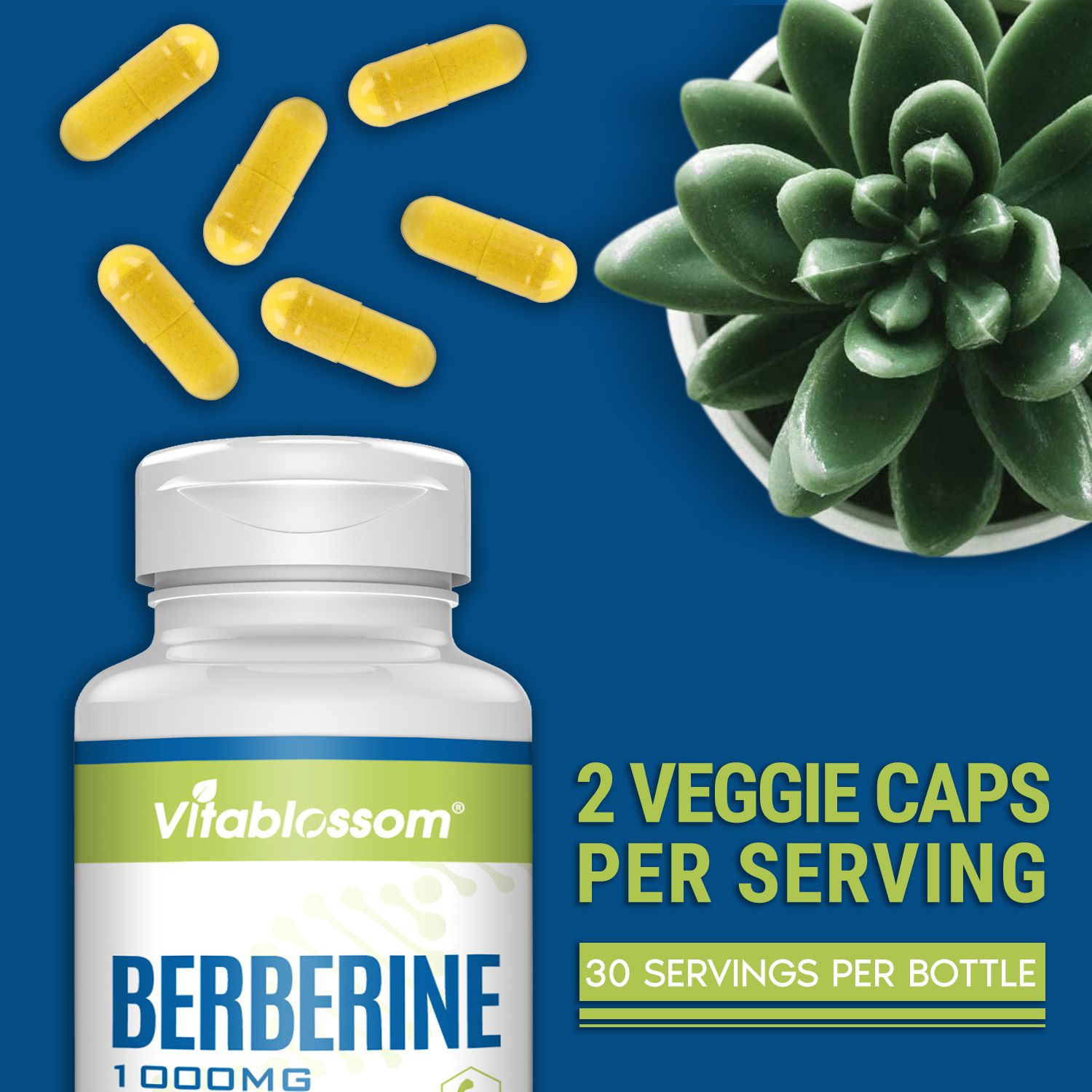 Vitablossom Premium Berberine 1000mg Formula HCL Complex Supplement with Silymarin for Better Absorption, Healthy Blood Sugar Levels & Cholesterol Support, Non GMO & Gluten Free
Vitablossom Berberine Advanced Formulation: To Promote Your Optimum Health
Berberine is a natural alkaloid found in a large variety of traditional plants and herbs. Our Berberine is extracted from the roots of Berberis aristata (Indian Barberry or Tree Turmeric). Here are a few ways our berberine formula can help keep you healthy & feeling good.
Promotes Mitochondrial Health & Function
Supports Anti-Aging & Longevity
Powerful AMPK Activator & Antioxidant
Supports Heart & Cardiovascular Health
Supports Cholesterol Health
Supports Healthy Blood Glucose Levels
Promotes Digestive Health & Well-Being
Powerful Anti-Inflammatory Properties
Supports Normal Blood Sugar Levels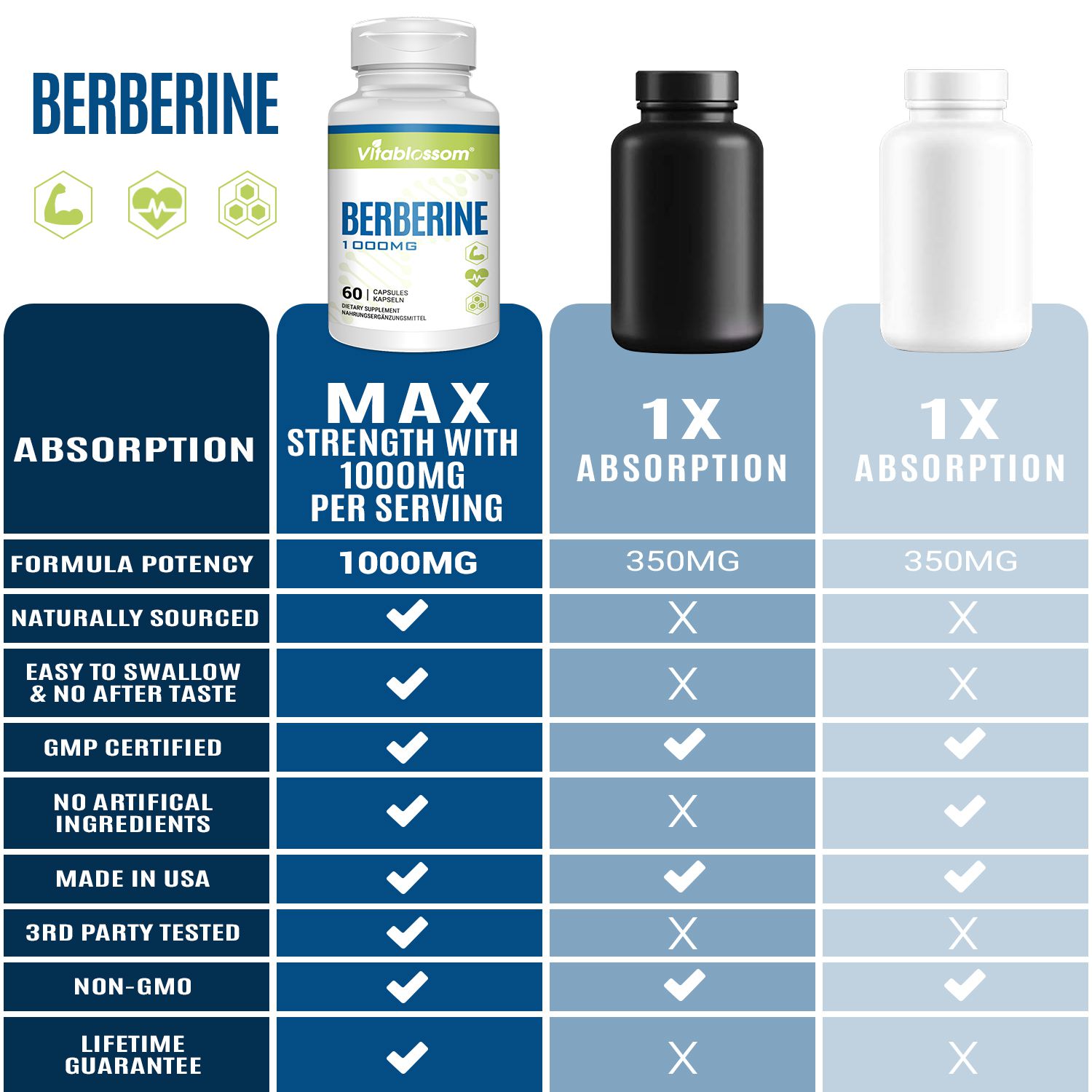 POWERFUL COMBINATION:
According to the research, Berberine has low rates of absorption when taken orally. For maximum results, our formula combines Silymarin with Berberine to make sure it can be absorbed more easily by the body into the bloodstream.
SUPPORT FOR HEALTH & WELL-BEING: Berberine supports the immune system, assist with glucose metabolism, aid in healthy weight management and promote heart and gastrointestinal health.
MAX POTENCY:Vitablossom Berberine Capsules provides 1000mg Powerful Pharmaceutical Grade Berberine HCL per serving. Just 2 Capsules for the whole day support. Using separate doses improves absorption but more importantly helps you avoid side effects that arise from a concentrated dose.
GLUTEN FREE: Easy to Swallow Vegan Capsules. Our capsules are free of shellfish, eggs, fish, peanuts, milk, wheat, soy and tree nuts, so our berberine supplement is a great choice for people with dietary sensitivities or diet preferences.
QUALITY YOU CAN TRUST: This product is proudly made with Guaranteed Purity & Potency. We offer best quality products for the best value. All our products are Third Party Tested. We do not compromise on quality.
Cannabidiol is known to boost the immune system thanks to its anti-inflammatory properties, so it can definitely help reduce inflammation in your system. One of the most exciting ways to consume cannabidiol is through a broad-spectrum CBD oil. You can add this to your morning coffee or simply down it own its own.

Hemp is a variety of the cannabis sativa plant. The main difference between hemp and other strains of cannabis such as marijuana is that there is a very low percentage of THC compound in hemp, lower than 0.3% and therefore, hemp is not normally used as a recreational drug. Rather it is grown for its fiber seed and most often used for industrial purposes, such as in the manufacturing of paper or clothing. It can also be used as a food product.
Cannabis describes cannabis products in general.
Marijuana specifically refers to cannabis products that are made from the dried flowers, leaves, stems and seeds of the cannabis plant.