Description
About Starry Herb 50000mg Hemp Oil


High Potency 50000mg of Pure Hemp Extract Aids in alleviation of infection joint pain and swelling
2oz bottle with 60 Servings of PREMIUM ORGANIC EXTRACTS
833mg per Serving to help aid in ache and anxiousness for a natural and better sleep
Dropper for Accurate Measurement. Cold pressed serum
Organic Grown & Bottled in the USA: Delicious "Starry Herb 50000mg Hemp Oil" is convenient to swallow and gentle on your stomach
Product description
Gain the remedy you are looking for with our top class all natural Kentucky grown hemp oils. Specifically blended to supply men and ladies maximum pain alleviation whilst helping in healthy sleep and decreased anxiety.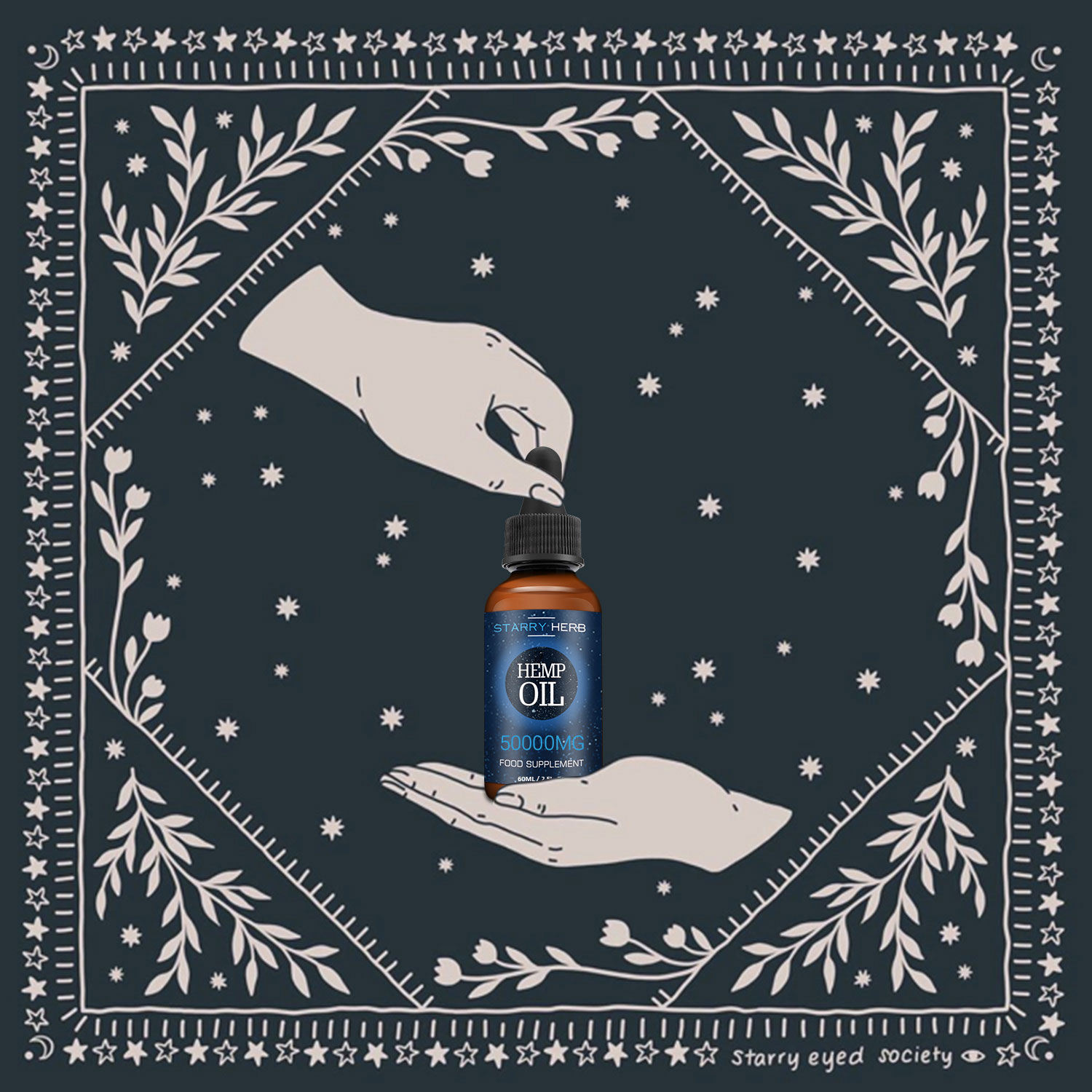 Our refreshing is convenient to swallow and gentile on your stomach with no foul or earthy aftertaste. Simply vicinity the precision dropper under your tongue and squeeze, (approximately 20 drops) and permit 30 seconds before swallowing.
You can even practice a drop or two to your pores and skin & feel the moisturizing difference. Or, place a few drops to your favorite liquids & appreciate the sparkling yet taste.
Our hemp extract tincture comes in a variety of flavors and strengths for our clients personal and special needs.
Each tincture consists of gorgeous hemp extract. This product is gluten-free, non-GMO, vegan friendly and organic. Extracted solely from proprietary CO2 (supercritical) extraction technique of maximum absorbency and effect.
Ingredients
Broad Spectrum Hemp Extract Oil
Starry Herb Hemp oil Drops 50000mg 60ml 83%, Made in USA
A lot of people use hemp oil products to deal with all kinds of issues. In a lot of cases, the most common issues for hemp oil consumers are anxiety and lack of sleep. But, some of them have testified that even if the products help them with their problems they still cause a bad after taste or are not the lightest on their stomachs.
The Starry Herb Hemp Oil is the solution to those issues. It will help you decrease your axiety and promote a much better night of sleep. But, it is also very gentle on the stomach. That is not all. Those who are suffering from dry skin, especially those who have dry skin in scattered patches around their body will love the difference that just a few drops of Starry Herb Hemp oil will make for them.

Try this gluten-free, GMO-free, organic hemp oil and feel the power of nature and its wonderful products.

Cannabidiol is known to boost the immune system thanks to its anti-inflammatory properties, so it can definitely help reduce inflammation in your system. One of the most exciting ways to consume cannabidiol is through a broad-spectrum CBD oil. You can add this to your morning coffee or simply down it own its own.

Hemp is a variety of the cannabis sativa plant. The main difference between hemp and other strains of cannabis such as marijuana is that there is a very low percentage of THC compound in hemp, lower than 0.3% and therefore, hemp is not normally used as a recreational drug. Rather it is grown for its fiber seed and most often used for industrial purposes, such as in the manufacturing of paper or clothing. It can also be used as a food product.
Cannabis describes cannabis products in general.
Marijuana specifically refers to cannabis products that are made from the dried flowers, leaves, stems and seeds of the cannabis plant.