Description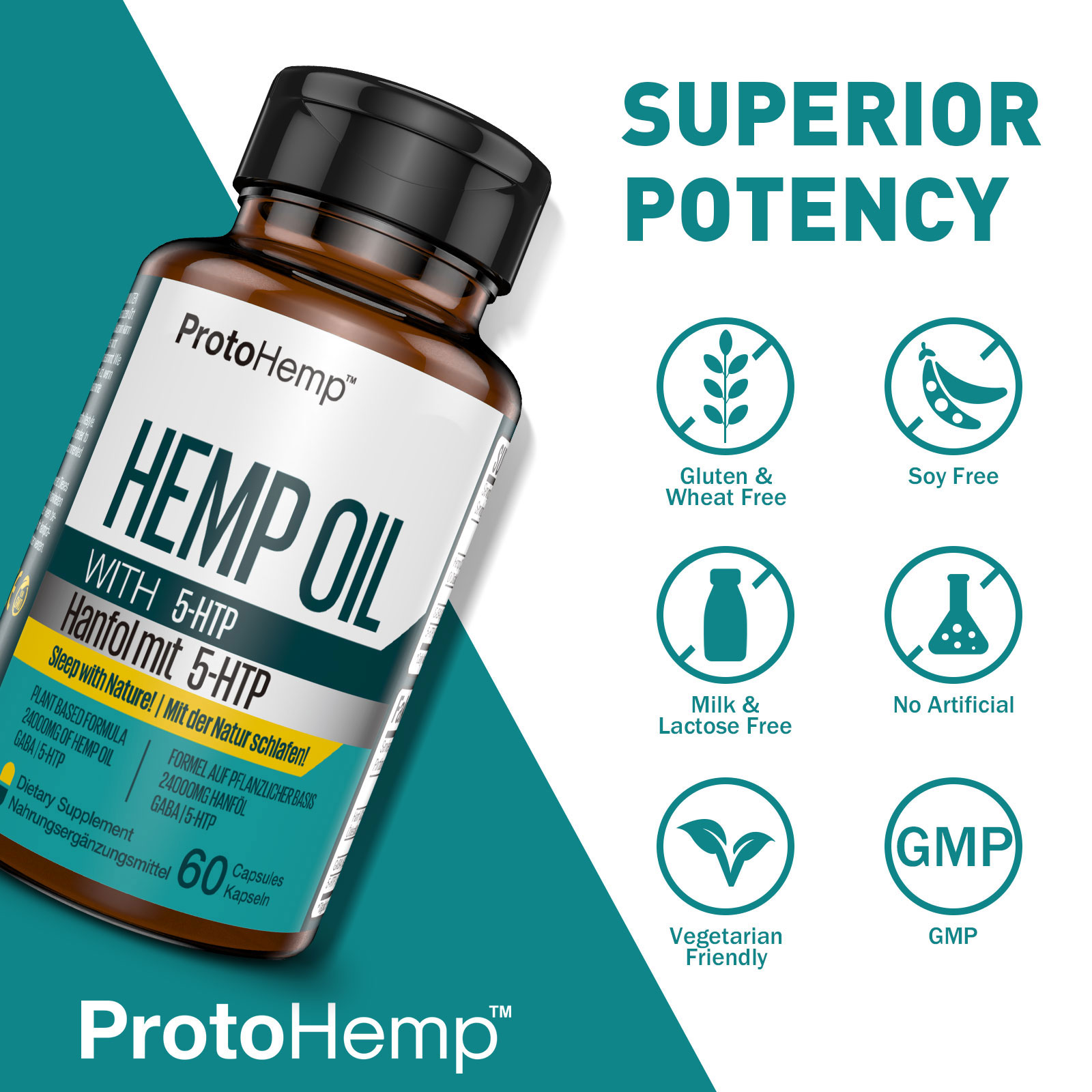 ProtoHemp 5-HTP capsules- Powerful Food Supplement Formula for Deep, Natural Sleep, with 24000mg Extract & Sleep-aid Ingredients, Rich in Omega 3-6, 60 Vegan Capsules
WHY TAKE PROTOHEMP 5HTP CAPSULES? – 5-Hydroxytryptophan is a naturally occurring amino acid that your body produces. Our tastier 5 HTP supplement is infused with 24000mg Extract & Sleep-aid Ingredients, Rich in Omega 3-6-9 with added Hemp oil Extract per serving to give you an incredible experience! Available in delicious and easy to take form, our vegan capsules help in supporting your overall wellbeing.

1 MONTH SUPPLY OF OUR YUMMY VEGAN CAPSULES - Since 5 HTP is not found in food, it can't be obtained through any diet. Each bottle of our HTP5 high strength supplement contains 60 delicious natures best capsules (not hard to swallow 5HTP tablets), which will last you for a whole month! Take two capsules per day to get the maximum benefit out of our effective 5HTP supplement.

BETTER SLEEP & RELAXATION- If you are looking for a natural solution to your sleepless nights, you must try our 5htp supplement as it is an excellent alternative to other relaxation supplements that may help you with sound sleep and supports your overall mood and well-being.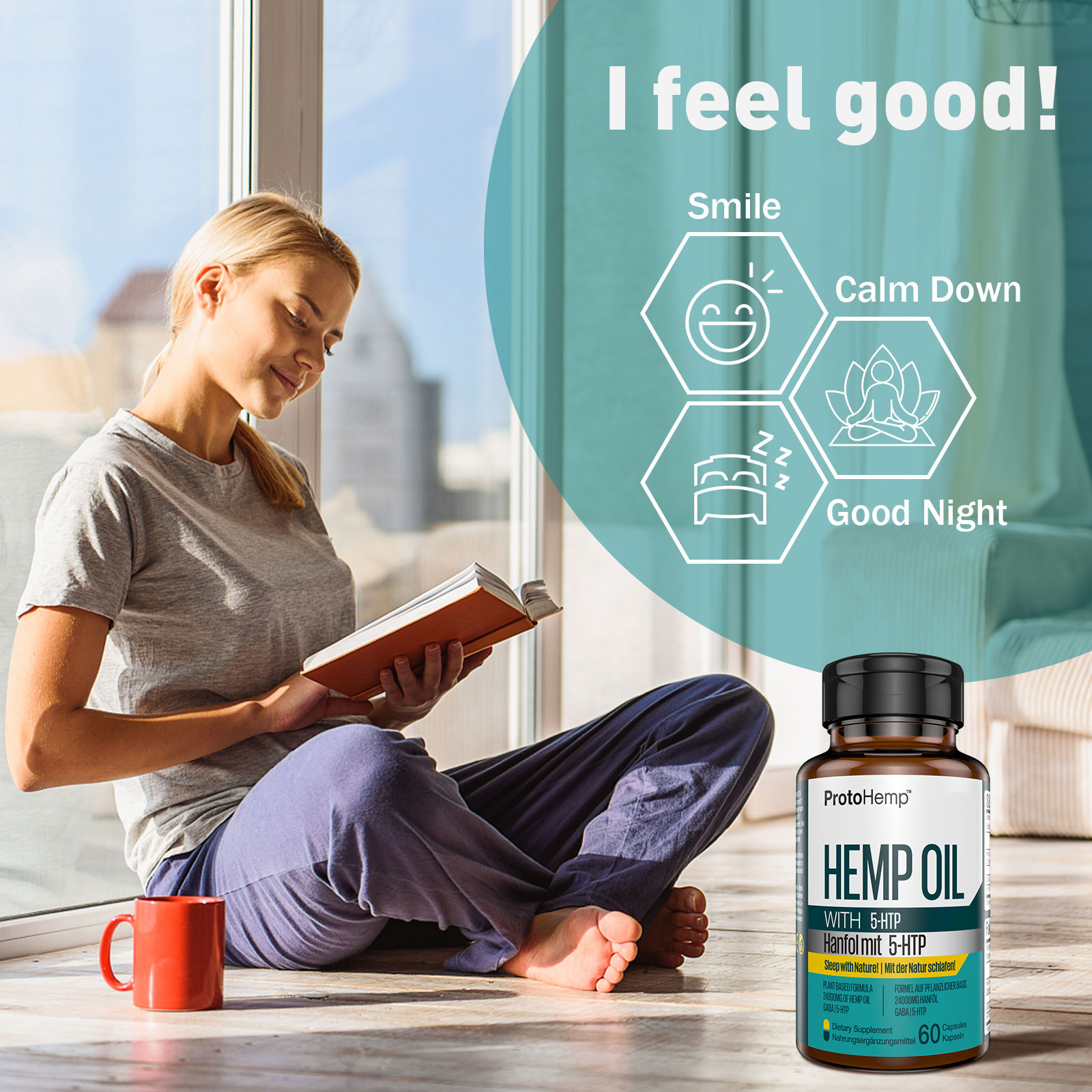 100% VEGAN & HIGHEST QUALITY ASSURED - We ensure that our 5 HTP capsules are pure vegan and have no usage of any animal byproduct. Vegetarian friendly, Non-GMO, and 100% Gluten-free. Make sure to meet Nature Made High quality standards. Made from carefully selected ingredients under strict manufacturing processes.
CUSTOMER CARE & SUPPORT - We are dedicated to not only providing you with premium nutritional supplements derived from the purest sourced ingredients, but we are also committed to providing YOU with the highest level of customer service possible. We're here whenever you need us and all our products are backed by our 100% satisfaction guarantee or your money back.

Cannabidiol is known to boost the immune system thanks to its anti-inflammatory properties, so it can definitely help reduce inflammation in your system. One of the most exciting ways to consume cannabidiol is through a broad-spectrum CBD oil. You can add this to your morning coffee or simply down it own its own.

Hemp is a variety of the cannabis sativa plant. The main difference between hemp and other strains of cannabis such as marijuana is that there is a very low percentage of THC compound in hemp, lower than 0.3% and therefore, hemp is not normally used as a recreational drug. Rather it is grown for its fiber seed and most often used for industrial purposes, such as in the manufacturing of paper or clothing. It can also be used as a food product.
Cannabis describes cannabis products in general.
Marijuana specifically refers to cannabis products that are made from the dried flowers, leaves, stems and seeds of the cannabis plant.