Description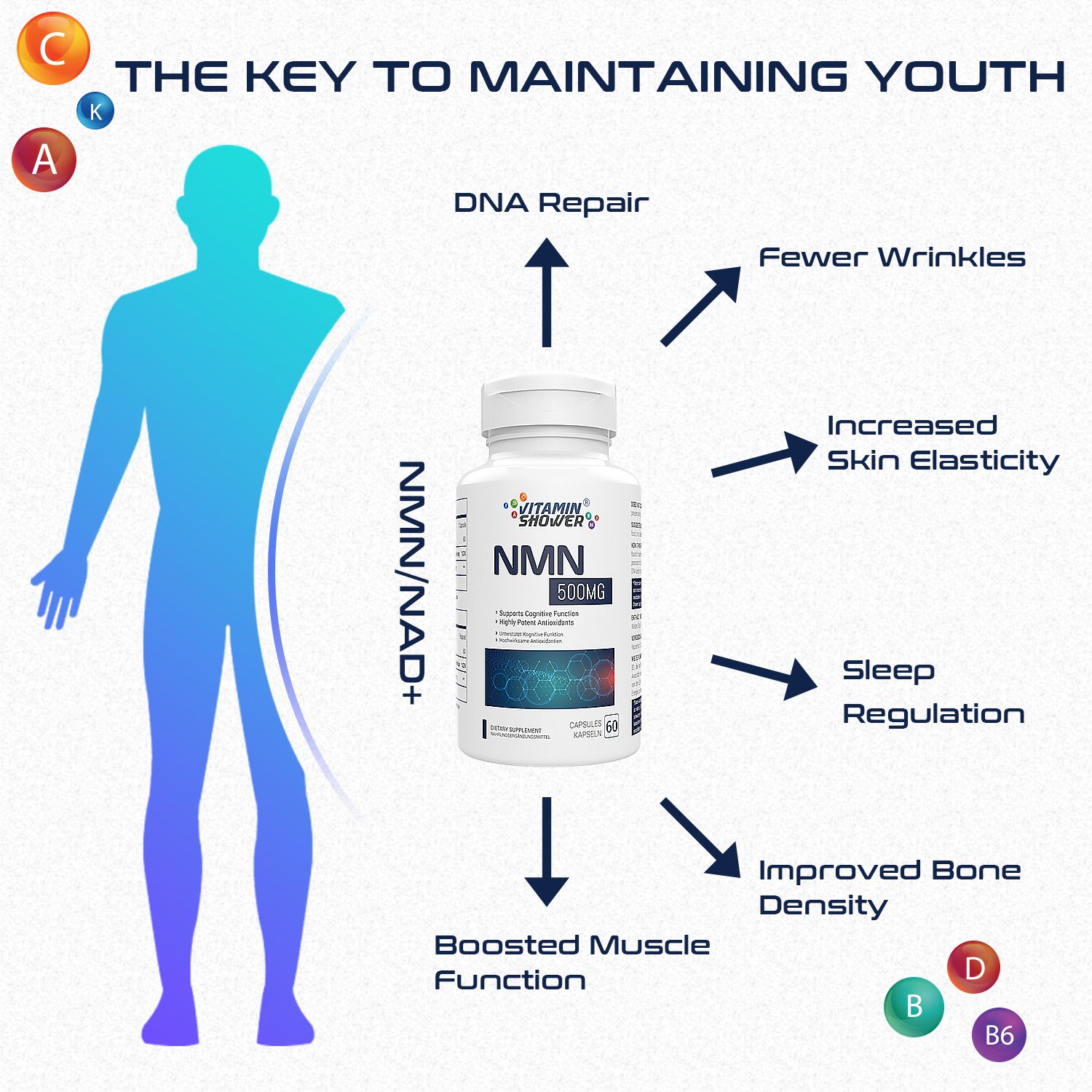 NMN Vitamin Shower Capsules,500mg Per Serving, Stabilized Form, Naturally Boost NAD+ Levels for Mental Performance, DNA Repair & Anti Aging, 60 Capsules Nicotinamide Mononucleotide Supplement
ULTRA HIGH NMN CONTENT: Vitamin Shower NMN contains 500MG of the PUREST & HIGHEST QUALITY NMN(beta-nicotinamide mononucleotide) in each serving - 99% standardised purity,and 60 capsules in each bottle for a full 60 day supply. The high purity of NMN capsules means higher absorption and bioavailability.
FULLY STABILIZED & ENHANCED ABSORPTION: NMN typically needs to be kept cold (fridge or freezer) because of its short shelf life. Our NMN comes in a completely shelf-stable non-refrigerated form and is packaged and sold in opaque jars and desiccant packs to protect it from light and moisture to MAINTAIN MAXIMUM POTENCY.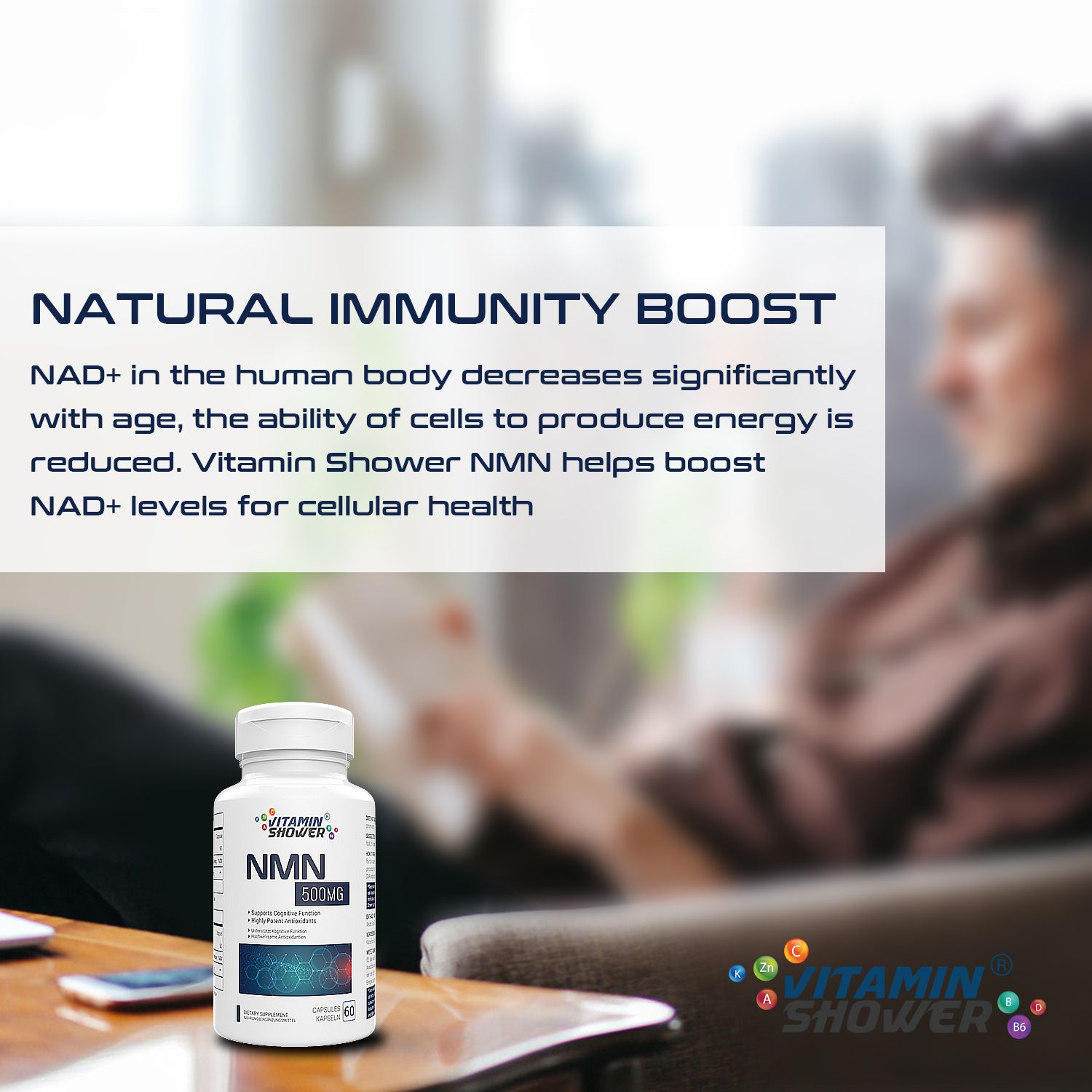 NON-GMO & VEGAN FRIENDLY: Our non-GMO, GMP certified 500mg NMN supplement is made in the UK, contains no soya, gluten or gelatin and is recommended for men and women to take daily. Vegan & Vegetarian friendly, and does not contain preservatives. Our enteric capsule helps prevent gastrointestinal & stomach discomfort and works to optimize cellular absorption.

PURITY TESTED AND ALLERGEN FREE: Each and every batch of our Vitamin Shower NMN capsules is tested for quality and purity during and after production.This ensures that the the highest purity, potency, and premium quality.
AN EASY DAILY ROUTINE: Our NMN capsules are simple addition to your health routine. It is easy to carry & swallow. Take one capsules per day with food or a glass of water as you like. Making NAD supplements part of your daily routine can help you maintain a better lifestyle.TAKE IT DAILY, YOU WILL FEEL YOUR BEST AND BE AT YOUR BEST AS YOU AGE!
Cannabidiol is known to boost the immune system thanks to its anti-inflammatory properties, so it can definitely help reduce inflammation in your system. One of the most exciting ways to consume cannabidiol is through a broad-spectrum CBD oil. You can add this to your morning coffee or simply down it own its own.

Hemp is a variety of the cannabis sativa plant. The main difference between hemp and other strains of cannabis such as marijuana is that there is a very low percentage of THC compound in hemp, lower than 0.3% and therefore, hemp is not normally used as a recreational drug. Rather it is grown for its fiber seed and most often used for industrial purposes, such as in the manufacturing of paper or clothing. It can also be used as a food product.
Cannabis describes cannabis products in general.
Marijuana specifically refers to cannabis products that are made from the dried flowers, leaves, stems and seeds of the cannabis plant.