Description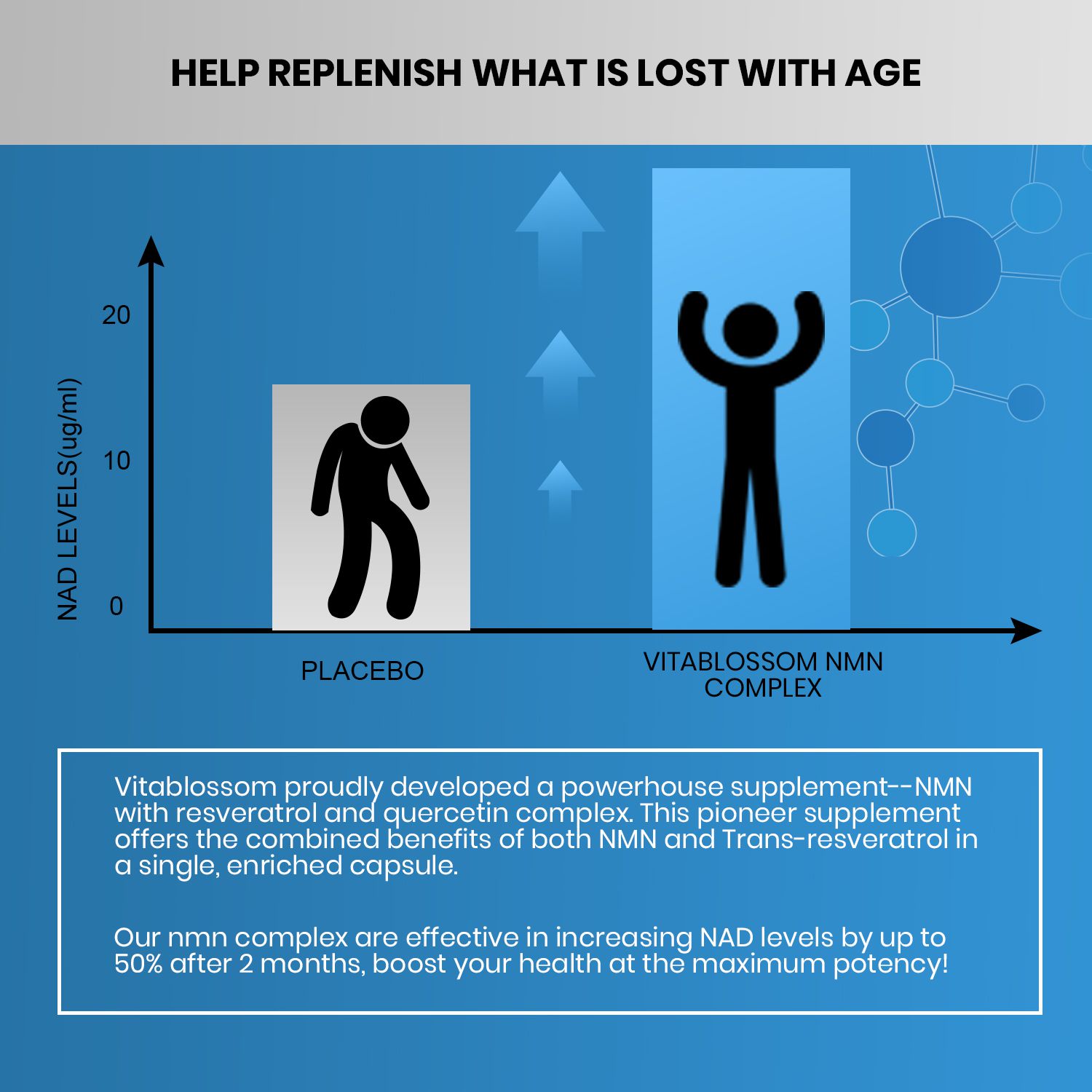 Vitablossom Advanced Formula NMN Supplement 500mg- Enhance Concentration, Boost Energy, Improve Memory & Help Regulate Metabolism For Men & Women - Your Best NAD Booster
ADVANCED FORMULA – Vitablossom 750mg NMN Complex Supplement was formulated with NMN 500mg + Trans-Resveratrol 100mg + Quercetin 100mg + Betaine Anhydrous 50mg; 1 Pack 60 capsules, 60-Day supply to boost NAD level & supports healthy aging & help regulate metabolism.

NMN & TRANS-RESVERATROL INTERACTIONS - NAD+is a critical coenzyme found in every cell in our body, and it's involved in hundreds of metabolic processes. But NAD+ levels decline with age. NMN is the direct precursor of NAD+ molecules, taking NMN supplement can repair DNA and generate cell energy, stimulate SIRTUIN activity. Resveratrol is an activator of Sirtuin (longevity gene). It is also an accelerator of NAD+ biosynthesis.

TRANS-RESVERATROL & QUERCETIN INTERACTIONS - Quercetin has a synergistic effect with Trans-Resveratrol and it slows down the degradation of Trans-Resveratrol. Betaine ensures the methyl needs of the various biochemical reactions involved in the body, it ensures the normal synthesis and metabolism of nucleic acids and proteins.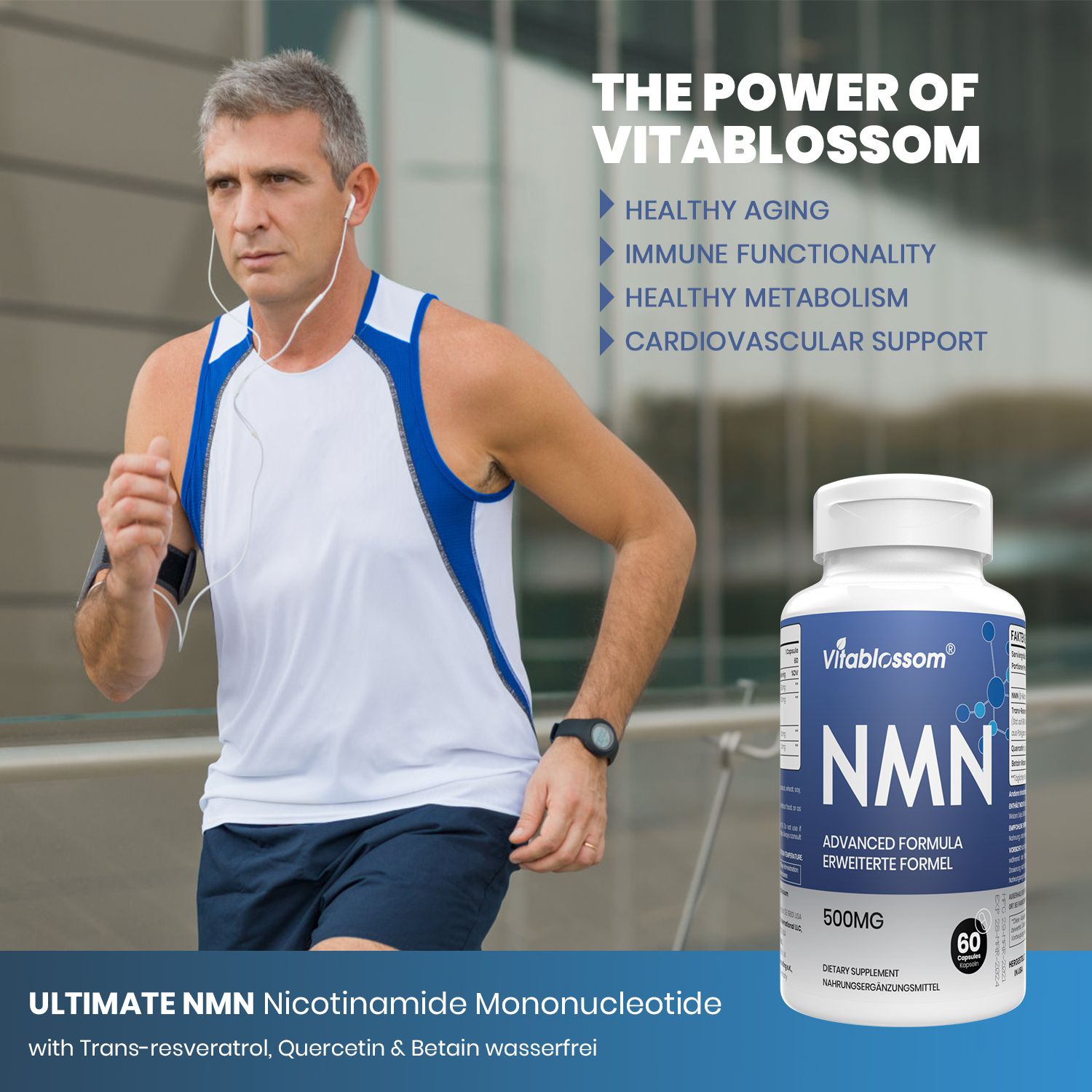 SCIENTIFICALLY FORMULATED FOR MAXIMUM POTENCY - Our NMN capsule comes in a completely shelf-stable non-refrigerated form, the unique enteric capsule can highly reduce unnecessary component loss and ensure maximum absorption of NMN Resveratrol. It's an advanced anti-aging supplements without adding calories or alcohol to your diet.
INGREDIENTS FROM THE PUREST SOURCES - Vitablossom 750mg NMN Complex Supplement is veggie capsule, no artificial flavors & no color added & no preservatives & no sweeteners & no gluten, non GMOs, VEGAN Friendly, GMP certified facility. Taking one Vitablossom NMN with trans-resveratrol supplement as your health routine daily, keep you health sustains highest NAD level. Be in the best condition at your age.

Cannabidiol is known to boost the immune system thanks to its anti-inflammatory properties, so it can definitely help reduce inflammation in your system. One of the most exciting ways to consume cannabidiol is through a broad-spectrum CBD oil. You can add this to your morning coffee or simply down it own its own.

Hemp is a variety of the cannabis sativa plant. The main difference between hemp and other strains of cannabis such as marijuana is that there is a very low percentage of THC compound in hemp, lower than 0.3% and therefore, hemp is not normally used as a recreational drug. Rather it is grown for its fiber seed and most often used for industrial purposes, such as in the manufacturing of paper or clothing. It can also be used as a food product.
Cannabis describes cannabis products in general.
Marijuana specifically refers to cannabis products that are made from the dried flowers, leaves, stems and seeds of the cannabis plant.