Description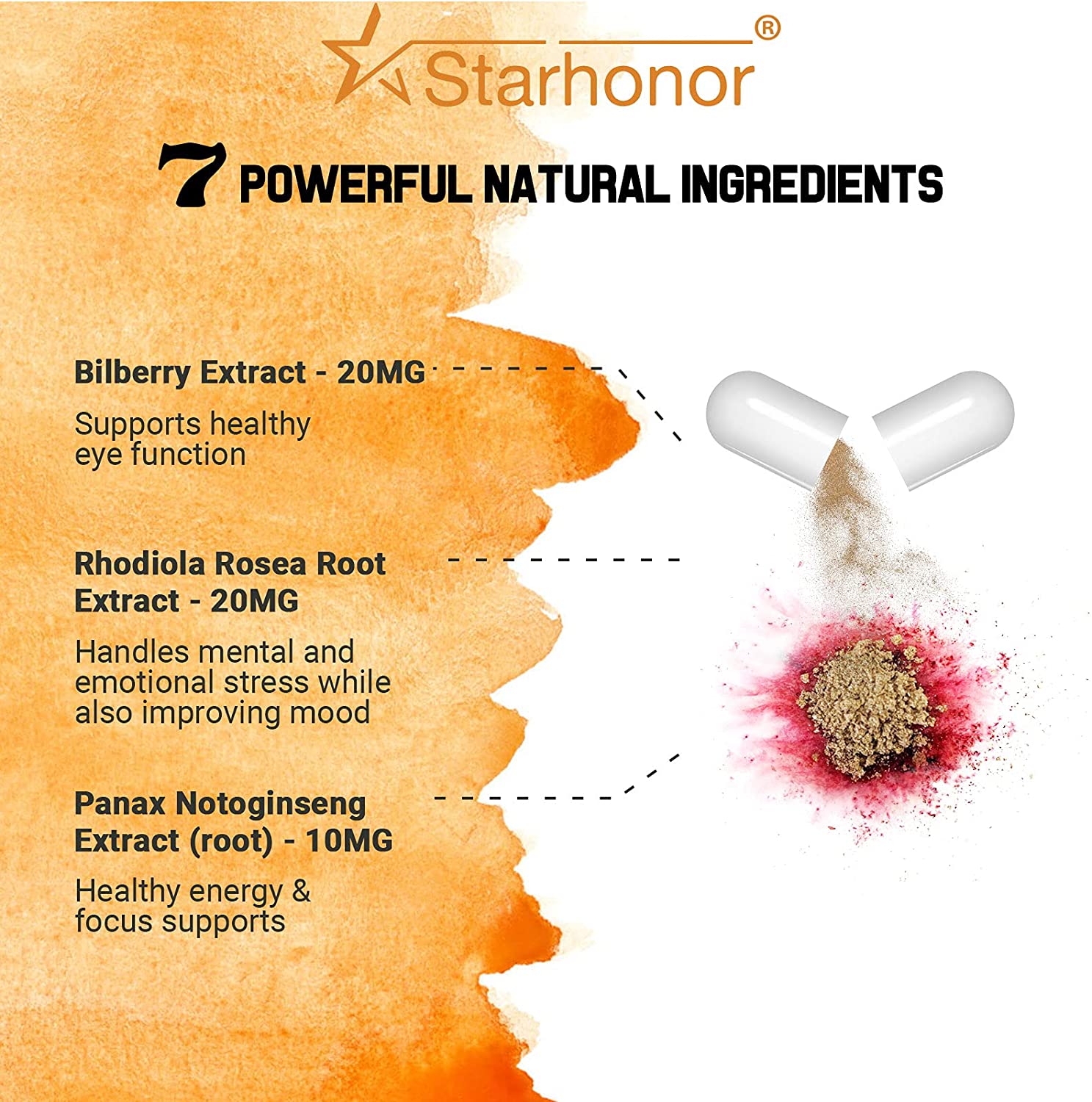 Starhonor NMN Supplement 750mg Contains NMN 500mg, CoQ10 & Phosphatidylserine & Policosanol & Herb Blend, Cholesterol and Cardiovascular Health, Improve Focus, Memory & Mood, 60 Capsules NAD+ Supplement
Ingredients:
NMN (beta-nicotinamide mononucleotide) 500mg, Coenzyme Q10 (Ubiquinone) (100mg), Phosphatidylserine (80mg) , Policosanol (from Sugar Cane) (20mg), Rhodiola Rosea Root Extract (20mg) , Bilberry Extract (20mg) , Panax Notoginseng Extract (10mg) , (Vegetarian capsule) cellulose.
CAUTION:
Adults, as a dietary supplement, take one capsules daily. Consult a medical doctor before taking this or any other nutritional supplement, if you are pregnant, nursing, have, or suspect a medical condition, or are taking any medications. Store in a cool, dry place. Keep out of reach of children.
INTENSIVE HEALTH SUPPORT: Provides all-day nutrient coverage,500mg of pure NMN (helps promote DNA repair, naturally helps cells provide energy, and slows down the aging process by increasing NAD + levels) ; 100mg of CoQ10 (enhances cardiovascular health) ; 80mg of Phosphatidylserine (enhances memory, focus & concentration); 20mg of Policosanol (lowers cholesterol and improves blood flow) ; 50mg of Herb Blend (increases energy levels).
MEMORY, FOCUS & CONCENTRATION - WITHOUT THE CRASH: Whether you're focused on career, academics, social life, or athletics, taking Starhonor is like another gear for your brain.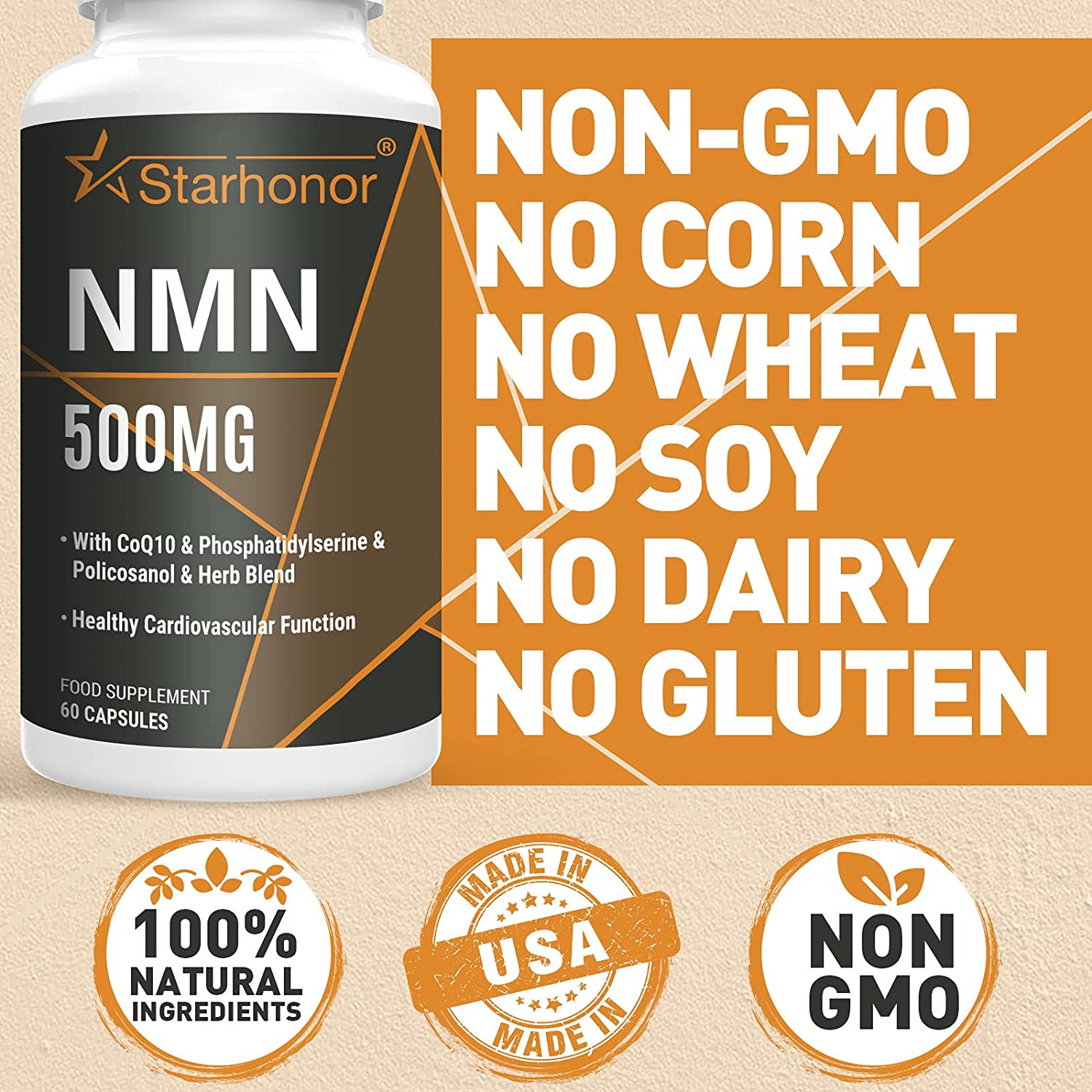 EASY TO USE : As a dietary supplement, take one capsule daily in the morning on an empty stomach with a glass of water, or as directed by your healthcare professional. Each bottle contains 60 capsules. Bottles contain a 60-day supply following recommended daily dosage.
HIGH ABSORPTION COQ10: Easy-to-absorb form of a key nutrient that powers and protects heart vitality, cardiovascular health and cellular energy. All natural, Non-GMO and no artificial ingredients, colorings, flavorings or additives. Dairy, Soy, Gluten, Wheat, Egg, Shellfish Free.
RISK-FREE PURCHASE GUARANTEED: We highly appreciate your trust and love for our brand. We are sure that our dietary supplement is the most beneficial option for boosting health, owing to the top-grade quality and plant-based ingredients. Your satisfaction is 100% guaranteed. If you are not completely satisfied with our product, feel free to contact us, and we'll make the things right.
Cannabidiol is known to boost the immune system thanks to its anti-inflammatory properties, so it can definitely help reduce inflammation in your system. One of the most exciting ways to consume cannabidiol is through a broad-spectrum CBD oil. You can add this to your morning coffee or simply down it own its own.

Hemp is a variety of the cannabis sativa plant. The main difference between hemp and other strains of cannabis such as marijuana is that there is a very low percentage of THC compound in hemp, lower than 0.3% and therefore, hemp is not normally used as a recreational drug. Rather it is grown for its fiber seed and most often used for industrial purposes, such as in the manufacturing of paper or clothing. It can also be used as a food product.
Cannabis describes cannabis products in general.
Marijuana specifically refers to cannabis products that are made from the dried flowers, leaves, stems and seeds of the cannabis plant.