Description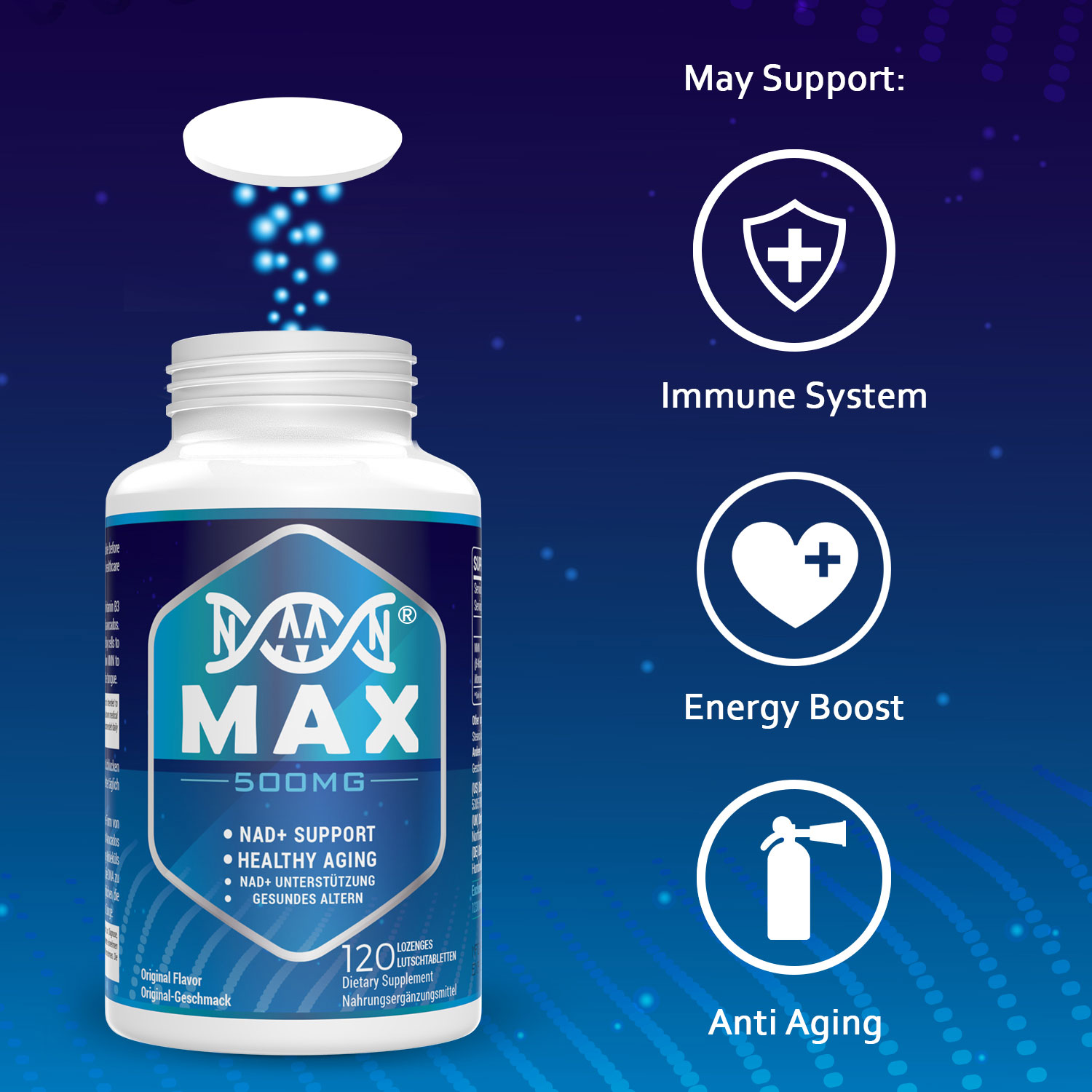 NAANMAX Sublingual NMN 500mg x 120 Tablets, Fast-Acting Nicotinamide Mononucleotide Lozenges, Potent Anti-Aging, NAD+ Booster Supplements
NEW NMN SUBLINGUAL TABLETS FROM NAANMAX – 120 Tablets / 500 mg each / 4 Months Supply; Original Flavour.

FAST DISSOLVE - These Nicotinamide Mononucleotide tablets can be chewed or used sublingually (under the tongue). Either way, a percentage of the NMN is absorbed directly to the bloodstream and is readily available to cells throughout the body, rather than being digested in the stomach as capsules or powder are.

PROMOTE HEALTH AND LONGEVITY- Nicotinamide mononucleotide (NMN) is a derivative of the B-vitamin niacin that is known to promote health and longevity by serving as a precursor to NAD+. NAD+ is required for our longevity genes to work. NMN Boosts Energy Metabolism; Promotes Healthy Brain Function; Anti-Aging & DNA Repair.

NON-GMO, GLUTEN-FREE, VEGAN FRIENDLY - Made without any chemical solvents., artificial ingredients, colors, preservatives or additives. Lozenges allow NMN to be absorbed directly into the blood vessels in the mouth and under the tongue, which can greatly increase the bioavailability of NMN and enhance the absorption of NMN in the blood.

HOW TO TAKE - Take one Tablets per day, with or without food, or as directed by your healthcare professional.

Cannabidiol is known to boost the immune system thanks to its anti-inflammatory properties, so it can definitely help reduce inflammation in your system. One of the most exciting ways to consume cannabidiol is through a broad-spectrum CBD oil. You can add this to your morning coffee or simply down it own its own.

Hemp is a variety of the cannabis sativa plant. The main difference between hemp and other strains of cannabis such as marijuana is that there is a very low percentage of THC compound in hemp, lower than 0.3% and therefore, hemp is not normally used as a recreational drug. Rather it is grown for its fiber seed and most often used for industrial purposes, such as in the manufacturing of paper or clothing. It can also be used as a food product.
Cannabis describes cannabis products in general.
Marijuana specifically refers to cannabis products that are made from the dried flowers, leaves, stems and seeds of the cannabis plant.