Description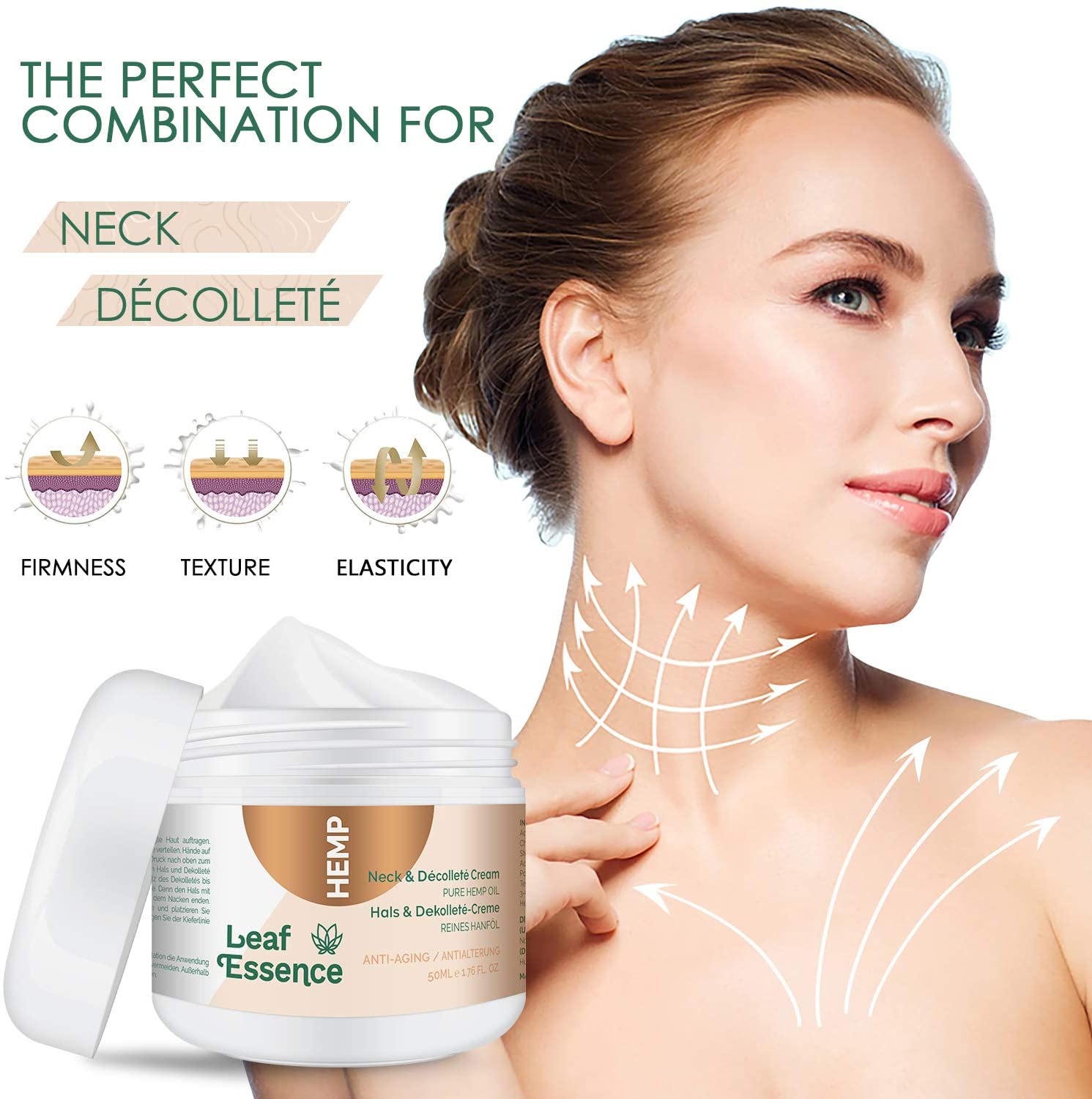 Leaf Essence Hemp Neck Cream, Anti Aging Moisturizer for Neck & Décolleté, Neck Tightening Cream, Erase Crepe Skin Wrinkles Sagging Skin Fine Lines,Turkey Neck and Double Chin (50ML)
【THE ONE NECK CREAM YOU NEED】The skin on our neck and chest is incredibly delicate, with very little oil to provide natural hydration and protection-yet, so often we neglect this fragile area, focusing all our attention on our faces. Want to quickly diminish the tell-tale signs of ageing that can easily develop? You're in the right place.Our neck cream formulated by professionals and born from a state-of-the-art technology.
【EXCLUSIVE FORMULA】 Hemp contained in it make our neck cream more prominent. According to research cannabis sativa can help reduce fine lines and wrinkles as well as prevent signs of aging from developing. The linoleic acid and oleic acids found in hemp can't be produced by the body but can play a crucial role in skin health and anti-aging, the abundance of fatty acids may make the oil an excellent choice for nourishing the skin.
【LIFTING & TIGHTENING & REPAIR】Our Neck Firming Cream can repair crepe skin to improve relaxation of neck skin and at the same time can reduce wrinkles, protect it from oxidation, and other causes of aging and leave skin delicate and smooth, full of youthful vitality, showing charming neck. Say goodbye to Turkey Neck,Crepey Neck,Saggy Neck & Double Chin.
【PERFECT FOR ALL SKIN TYPES】Our neck cream works great for men, women and all skin types including dry, sensitive and mature skin. It's never too late or early to take action against wrinkles.High level quality to provide the best anti-wrinkle & fine lines treatment! Your entire neck and jawline will look more sculpted right away.
【YOU'LL LOVE HOW IT FEELS】This Neck Firming cream is NOT greasy, doesn't leave a sticky oily feeling and doesn't irritate your skin or worse forms breakouts. It provides you a fresh, comfortable feeling all day.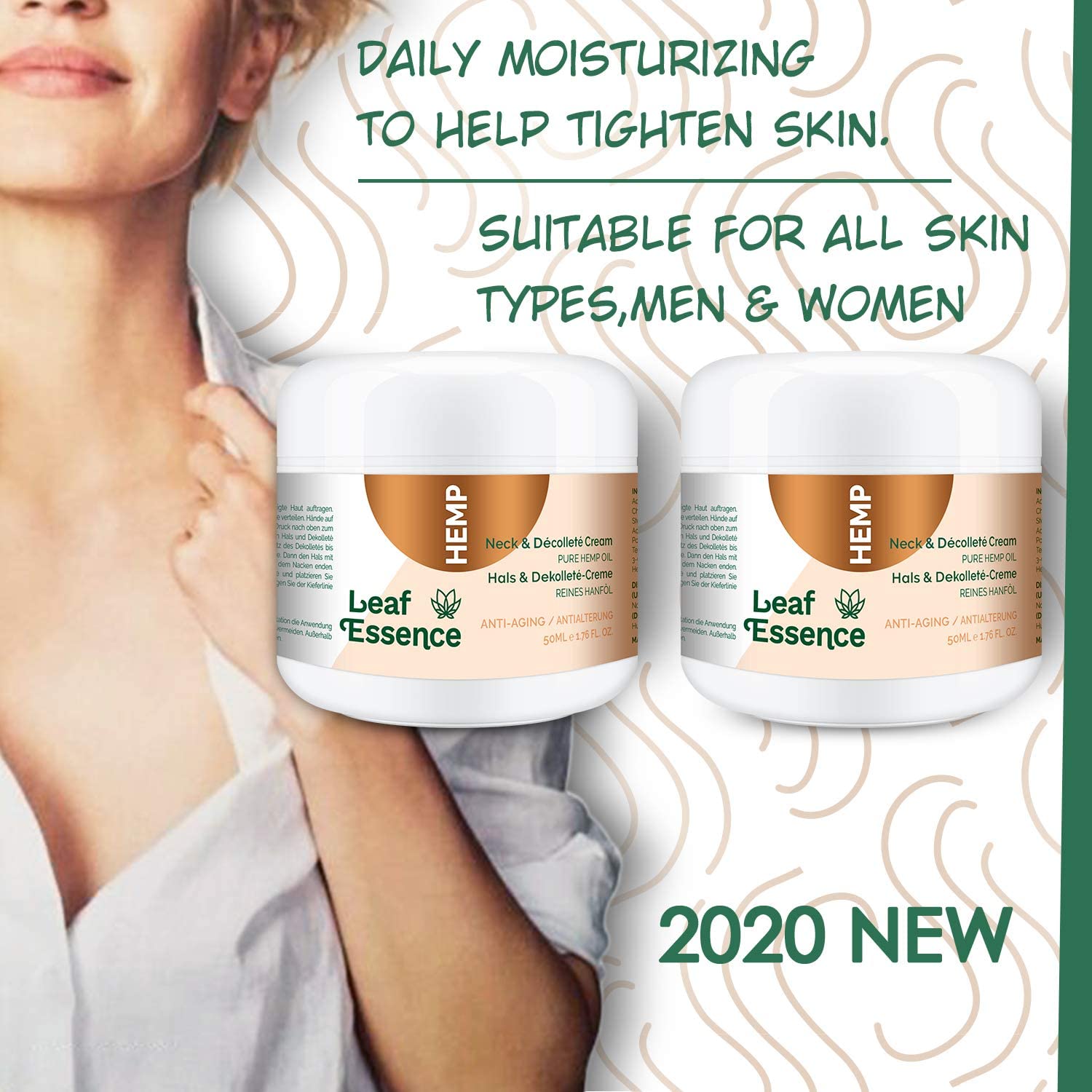 Leaf Essence Hemp Neck Description
Leaf Essence Hemp Neck Cream is designed to leave skin delicate and smooth, full of youthful vitality, showing charming neck.
The ingredients of our cream are natural , no dyes, silicone, propyleneglycol or other harmful chemicals.
BENEFITS:
Encourages firmer skin
Lift and tightens sagging skin

Restores elasticity and bright neck skin tone

Helps to prevent "crepe" or "turkey" neck over time

Reduces the appearance of wrinkles and fine lines

Moisturizes and nourishes for more hydrated
Smoother skin
CUATION:
For external use only, discontinue use if irritation occurs. Avoid contact with eyes area. Keep out of reach of children.
WHAT YOU CAN GET: One Bottle Neck Cream (1.76 oz / 50ml )
So click the Add to Cart button now to get the best results.
Cannabidiol is known to boost the immune system thanks to its anti-inflammatory properties, so it can definitely help reduce inflammation in your system. One of the most exciting ways to consume cannabidiol is through a broad-spectrum CBD oil. You can add this to your morning coffee or simply down it own its own.

Hemp is a variety of the cannabis sativa plant. The main difference between hemp and other strains of cannabis such as marijuana is that there is a very low percentage of THC compound in hemp, lower than 0.3% and therefore, hemp is not normally used as a recreational drug. Rather it is grown for its fiber seed and most often used for industrial purposes, such as in the manufacturing of paper or clothing. It can also be used as a food product.
Cannabis describes cannabis products in general.
Marijuana specifically refers to cannabis products that are made from the dried flowers, leaves, stems and seeds of the cannabis plant.