Description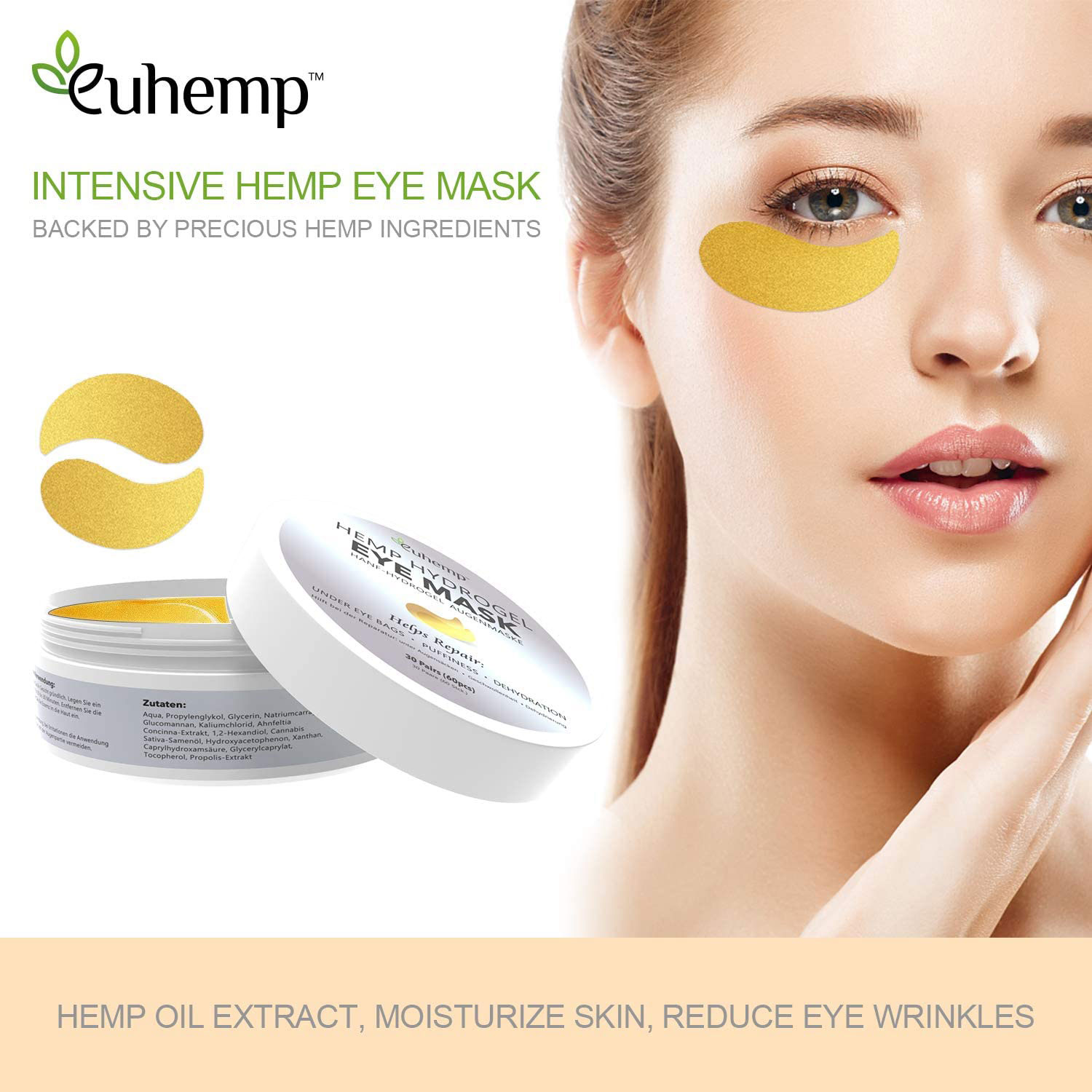 Hemp Eye Mask Patent Formula, Anti-Aging Under Eye Patches, Intensive Eye Treatment Mask Can Reduce Puffiness, Dark Circles and Wrinkles Under the Eyes 60 Pcs
NEWEST HEMP EYE MASK: In order to enhance the efficacy of the eye mask, we added the latest hemp extract in it, which can effectively moisturize the skin, improve cell metabolism, and reduce wrinkles in eye bags and dark circles. In addition, it can repair and accelerate the healing of damaged skin, helping you relieve tension, stress and eye skin problems. This will be your most powerful supplement for improving eye skin health.
EFFICIENT MOISTURIZING EYE MASK: EUHEMP eye mask can provide a powerful and lasting moisturizing effect for the skin around the eyes. It is not greasy after use and can keep skin hydrated and energized. For people who sleep less than 8 hours, it can solve all the problems encountered by your eye skin, can effectively reduce the appearance of dark circles and wrinkles, and make your skin look smoother.
REDUCE PUFFINESS & DEHYDRATION: As the best companion for eye skin, our eye mask can help you calm the skin around your eyes and relieve your puffiness and dehydration caused by lack of sleep. It can moisturize the skin in all directions, reduce the appearance of wrinkles and fine lines, effectively maintain the elasticity and smoothness of your skin. Always keep your eye skin in a young and healthy state.
SAVIOR OF SENSITIVE SKIN: Under strict control and quality testing, our eye cream contains organic and natural ingredients without any additives. You don't have to worry about it irritating or blocking pores. It has a cooling and soothing effect and is suitable for all types of skin. Whether you have normal, oily, dry or sensitive skin, you can use this effective formula to reduce eye bags and wrinkles. Its safety is further guaranteed by a GMP approved manufacture facility.
ADD IT TO SKINCARE ROUNTINE: Clean your face with warm water and dry your eyes. Remove the eye mask and approach the skin around the eyes. Take it out after about 20-30 minutes. After removing the eye mask, gently massage the skin around the eyes to allow the skin to fully absorb the ingredients of the eye mask. Adhere to daily use, it will make your eyes full of youthful vitality and skin firmer. Let you get rid of eye problems such as floating eye bags and dark circles.
The skin texture of the eyes is much thinner than the skin of your other faces, so it is important to treat the eyes accordingly. Are you still looking for natural eye masks to help eliminate signs of fatigue and aging? EUHEMP EYE MASK can meet all your needs for eye mask.
The advantages of EUHEMP eye mask:
✔ Reduce puffiness around the eyes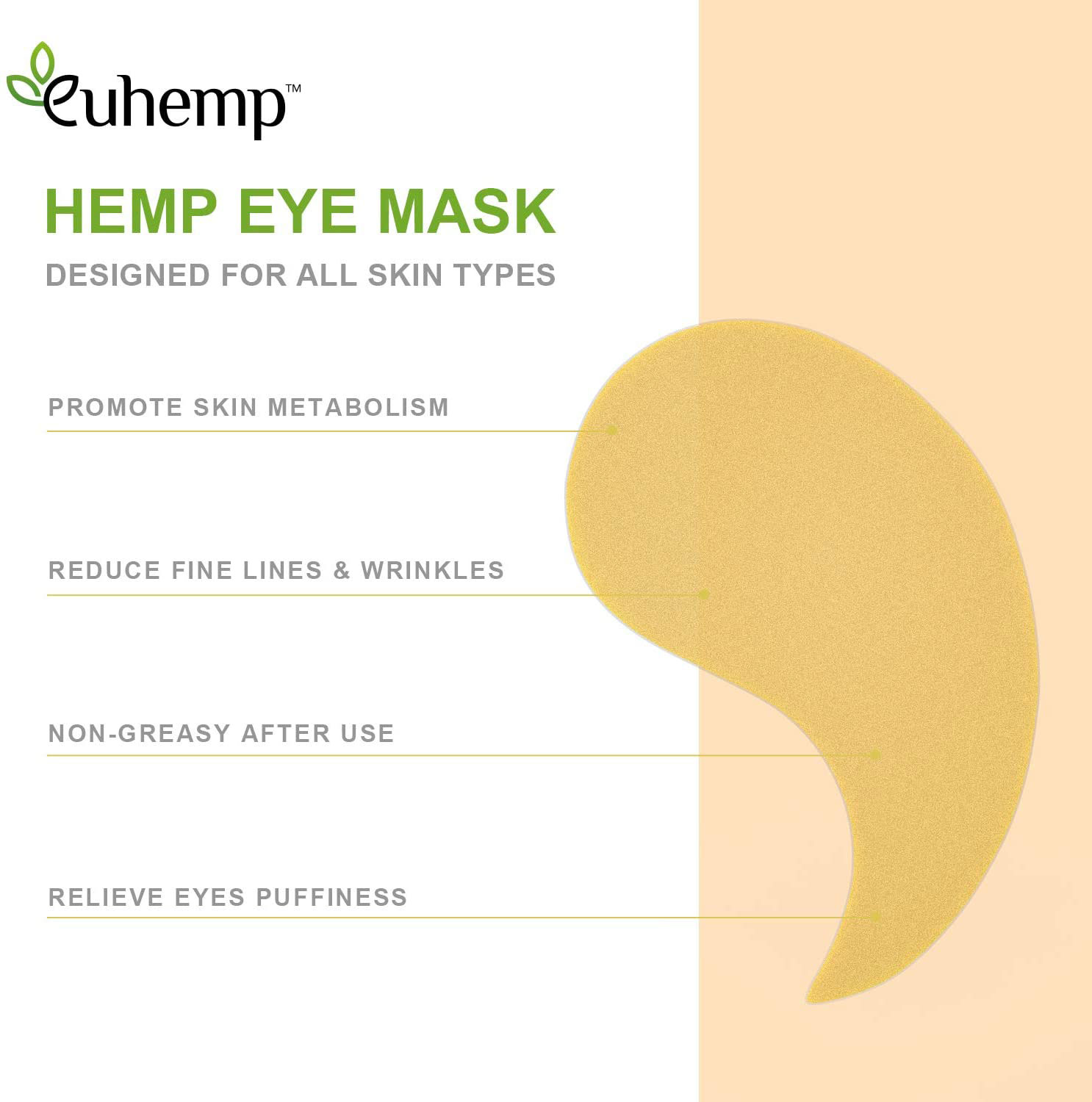 ✔ Reduce dark circles and bags under your eyes to make the skin around your eyes more and more white.
✔ Increase elasticity, firmness and plump skin...
✔ Can moisturize and moisturize your skin, making the skin soft and supple.
✔ It will not cause side effects.
How to use EUHEMP eye mask?
For best results, we recommend that you use eye mask as part of your daily skin care routine. Every morning and evening, after you cleanse your face, you can apply eye mask for 20-30 minutes to see the effect.
EUHEMP eye mask specifications:
✔ 30 PAIRS (60 pcs)
✔ Suitable for all types of skin
Ingredients:
AQUA, PROPYLENE GLYCOL, GLYCERIN
Cannabidiol is known to boost the immune system thanks to its anti-inflammatory properties, so it can definitely help reduce inflammation in your system. One of the most exciting ways to consume cannabidiol is through a broad-spectrum CBD oil. You can add this to your morning coffee or simply down it own its own.

Hemp is a variety of the cannabis sativa plant. The main difference between hemp and other strains of cannabis such as marijuana is that there is a very low percentage of THC compound in hemp, lower than 0.3% and therefore, hemp is not normally used as a recreational drug. Rather it is grown for its fiber seed and most often used for industrial purposes, such as in the manufacturing of paper or clothing. It can also be used as a food product.
Cannabis describes cannabis products in general.
Marijuana specifically refers to cannabis products that are made from the dried flowers, leaves, stems and seeds of the cannabis plant.