Description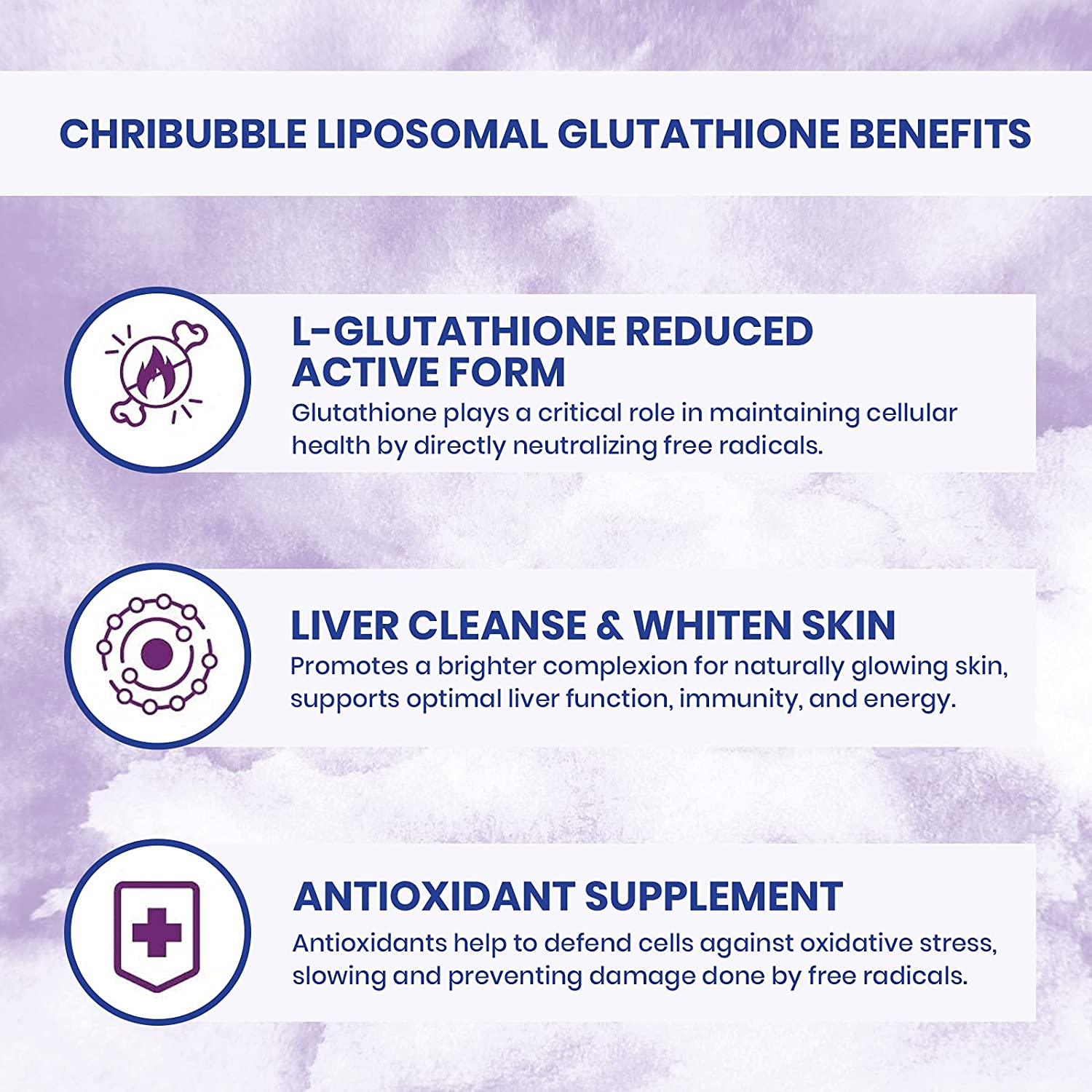 ChriBubble Liposomal Glutathione 1000mg, Pure Reduced L-Glutathione Liquid, Enhanced Absorption, Super Antioxidant Supplement to Support Immune and Brain Function, 60ml NAC Supplement
[ Liposomal Glutathione For Maximum Absorption ] : ChriBubble Super Glutathione Supplement contains 1000 mg of L-glutathione Reduced per serving for maximum absorption and health. Glutathione plays a very important role in the body, protecting it from free radicals to support cell function and homeostasis. Our liposomal glutathione drops can absorb 95% of all active ingredients within 3 minutes after ingestion, which greatly improves the bioavailability of glutathione.
[ Powerful Antioxidant Protection ]: Glutathione is a primary antioxidant that protects cells from damage caused by free radicals, which can cause premature cell aging. As we age, our body's glutathione is also depleted; this may be caused by poor lifestyle choices, stress or aging. ChirBubble Liposomal Glutathione Reduced helps prevent free radical damage, Supports a healthy immune system. Just 1-2 drops for the whole day support, perfect natural blend of everything your needs!
[ Anti-Aging & Whiten Skin ]: Studies shows L-Glutathione Reduced supplements are known for their skin whitening effects, which through righten, lighten, and smooth skin by converting melanin into a lighter shade. Adding glutathione to your beauty routine helps to protect skin, while producing brighter, clearer, smoother, younger and beautiful complexion. ChriBubble Liposomal Glutathione can naturally brighten your skin from the inside out!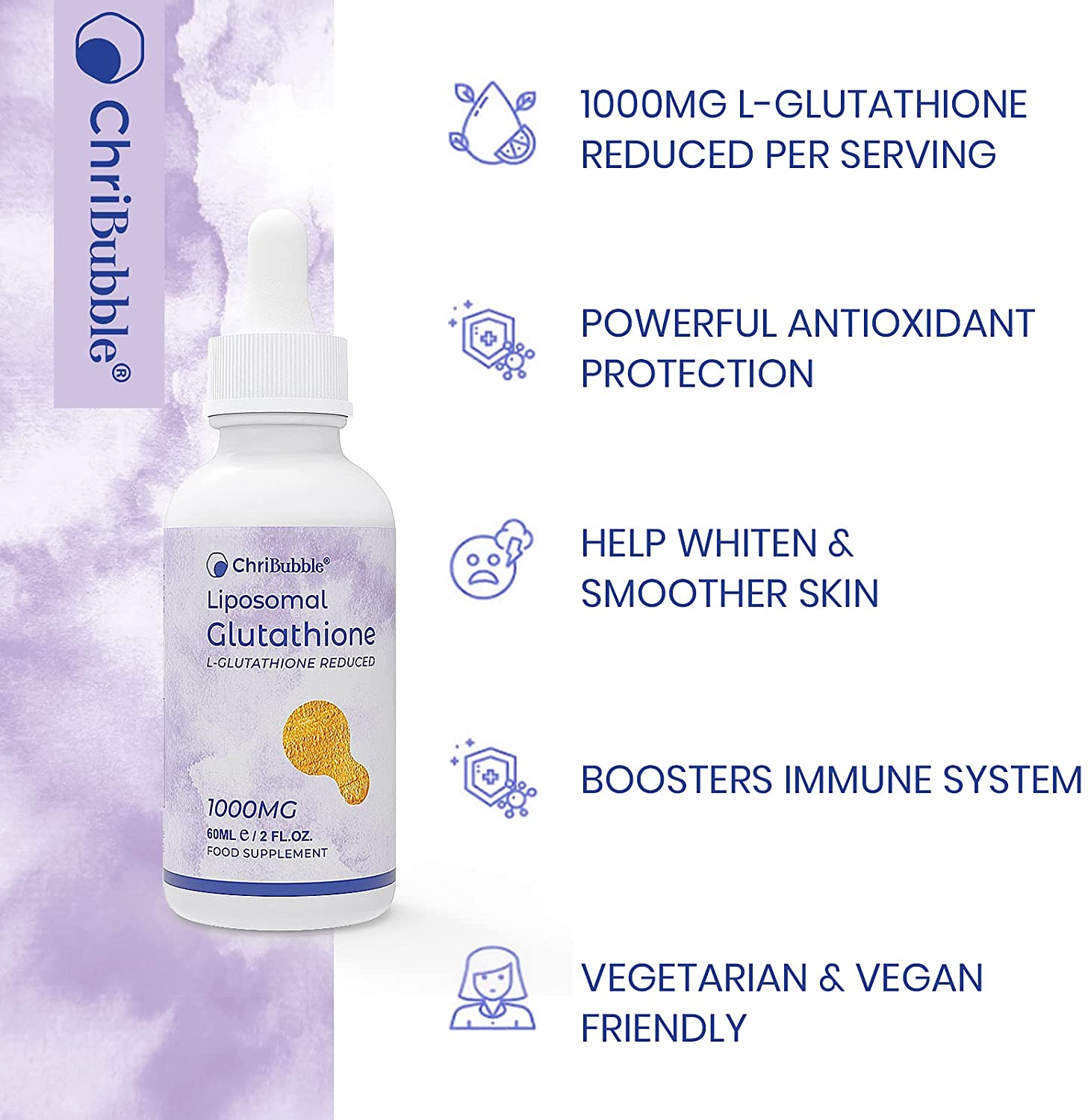 [ Support Overall Health]: The optimal glutathione level achieved through our excellent ChriBubble liposomal supplement helps reduce inflammation that occurs with age; Critical for maintaining energy levels as well as focus and concentration, Glutathione may slow cellular aging and supports brain brain health, concentration and memory. Increasing glutathione levels can provide many health benefits and help your immune system stay strong and assists in overall health and wellbeing.
[ ChriBubble - A brand you can trust ]: ChriBubble nutritional supplement formulated to support each individual's unique biochemical and metabolic needs. Our liposomal glutathione is vegan friendly, no GMP, soy, wheat and dairy free. Our ingredient list is suitable for everyone. Boost your immune system and increase your energy.
Cannabidiol is known to boost the immune system thanks to its anti-inflammatory properties, so it can definitely help reduce inflammation in your system. One of the most exciting ways to consume cannabidiol is through a broad-spectrum CBD oil. You can add this to your morning coffee or simply down it own its own.

Hemp is a variety of the cannabis sativa plant. The main difference between hemp and other strains of cannabis such as marijuana is that there is a very low percentage of THC compound in hemp, lower than 0.3% and therefore, hemp is not normally used as a recreational drug. Rather it is grown for its fiber seed and most often used for industrial purposes, such as in the manufacturing of paper or clothing. It can also be used as a food product.
Cannabis describes cannabis products in general.
Marijuana specifically refers to cannabis products that are made from the dried flowers, leaves, stems and seeds of the cannabis plant.