Description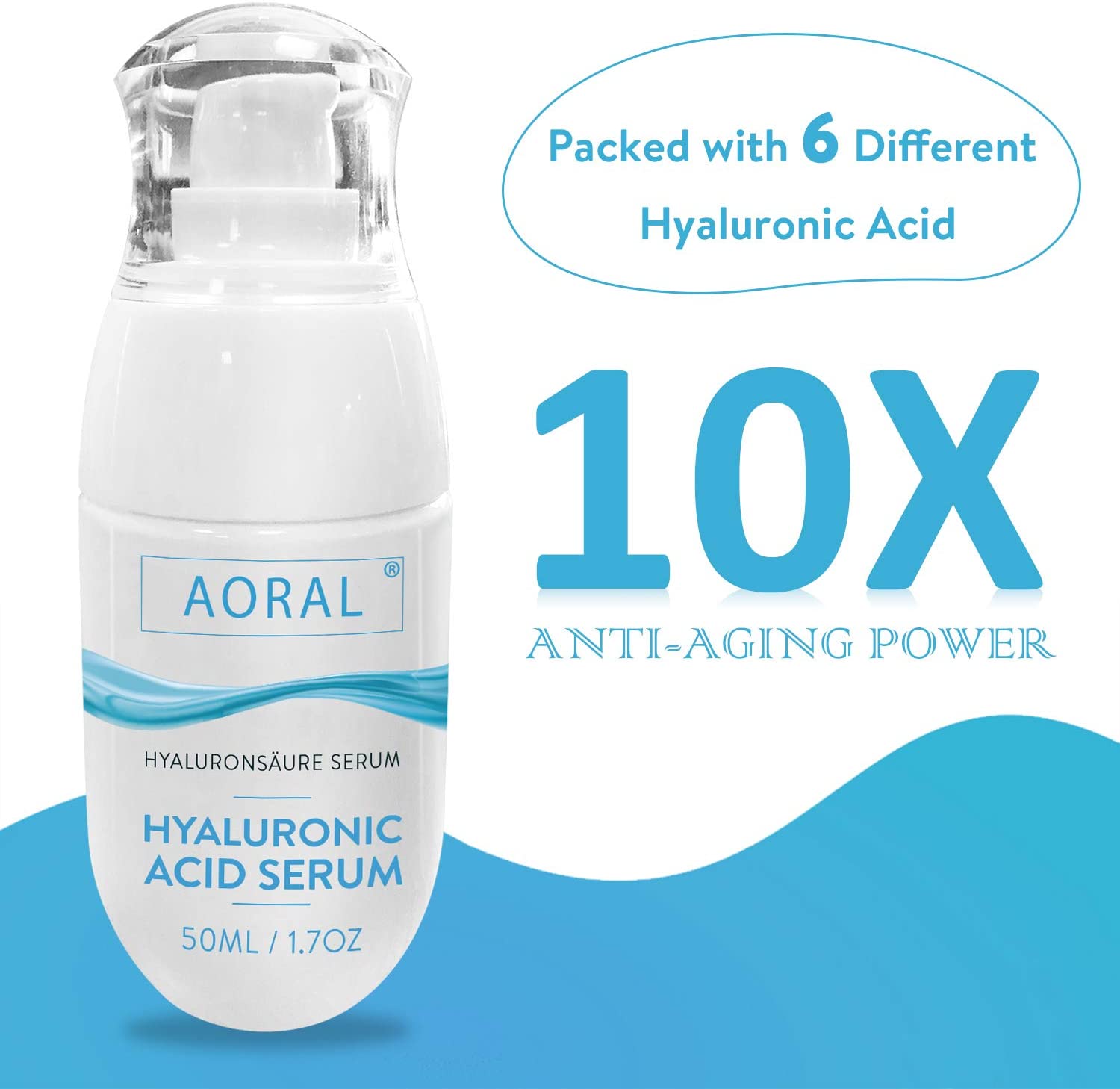 6-Complex Molecular Hyaluronic Acid Serum High Dose, Test Winner 2021, Best New BIO Anti-Wrinkle Anti-Aging Cream for Face and Eye, Hyaluronic Moisturising Cream Microneedling Suitable (50ml/1floz)
2021 NEWEST FORMULA WITH 6-FOLD MOLECULAR Hyaluronic Acid: We know there are already too many HA serums out there. So why bother? Well, it's NEVER been this easy. AORAL's HA serum is the ONLY one that is filled with 6 hyaluronic acids of different molecular weights, providing the different layers of the skin with EXTREMELY INTENSIVE moisture. As a sterile serum, it is also suitable for professional microneedling, dermaroller and ultrasound.
10X ANTI-ALTERNATIVE PERFORMANCE: Enriched with 5M Hyaskin™ (5 molecular weight hyaluronic acid), this hyaluronic gel is a great NON-SURGICAL ALTERNATIVE to Botox and facelifts. It easily hydrates different layers of skin and replaces old skin cells with newer ones, brightens skin tone and reduces the appearance of fine lines, wrinkles, dark spots and sun spots. It leaves your skin looking refreshed and radiant for 24 hours!
BIO INGREDIENTS TESTED BY SGS: AORAL's formula is specially tested by SGS and independently evaluated by the consumer portal cosmeticanalysis.com. The unique botanical Treme-HA® Hyaluronic Acid from the natural plant Tremella Fuciformis (snow fungus) has been specifically included. It provides a long-lasting, natural, flexible moisturising film that gives you comfortable hydration and antioxidant care for the face, neck, décolleté and eyes.
IMMEDIATE RESULTS: It is powerful and proven. Low and medium weight hyaluronan molecules penetrate deeper into the skin, while high weight hyaluronan molecules instantly hydrate the skin's surface. They work together to make your skin radiant, supple, firm, revitalised and soft. As the rich hyaluronic acid serum is ideally suited for use as a day cream and night cream, it replaces superfluous creams and fluids.
100% SAFE: No harmful synthetic ingredients or additives. No artificial fragrances or fillers. Paraben Free, Phthalate Free, Silicone Free and Cruelty Free. Aoral Hyaluronic Acid Serum proudly offers you a NATURAL & ORGANIC alternative to achieve your healthy, glowing skin. Enjoy it and incorporate it into your daily skincare routine!
Ingredients:
Water, Propylene Glycol, 1,2-Butanediol, Glycereth-26, Sodium Hyaluronate, Ceramide 1, Retinol, Tocopherol, Xanthan Gum, Allantoin, Yeast Beta-Glucan, Aloe, Barbadensis Flower Extract, Hamamelis Virginiana Extract, Hydrolyzed Soy Protein, Biosaccharide Gum-1, Cannabis Sativa Seed Oil, Palmitoyl Tetrapeptide-7, Dipotassium Glycyrrhizate, Phenoxyethanol.

Cannabidiol is known to boost the immune system thanks to its anti-inflammatory properties, so it can definitely help reduce inflammation in your system. One of the most exciting ways to consume cannabidiol is through a broad-spectrum CBD oil. You can add this to your morning coffee or simply down it own its own.

Hemp is a variety of the cannabis sativa plant. The main difference between hemp and other strains of cannabis such as marijuana is that there is a very low percentage of THC compound in hemp, lower than 0.3% and therefore, hemp is not normally used as a recreational drug. Rather it is grown for its fiber seed and most often used for industrial purposes, such as in the manufacturing of paper or clothing. It can also be used as a food product.
Cannabis describes cannabis products in general.
Marijuana specifically refers to cannabis products that are made from the dried flowers, leaves, stems and seeds of the cannabis plant.